Dave's Hot Chicken giving away free sliders to celebrate 6th anniversary
LOS ANGELES - What better way to celebrate an anniversary than with free chicken sandwiches?
Dave's Hot Chicken is doling out free chicken sliders on Tuesday in celebration of its 6th anniversary. 
There's no purchase needed and the offer is valid all day! 
All you have to do is download the Dave's Hot Chicken app between now and Tuesday, and the free slider will be automatically added to your rewards to claim.
The sandwiches are available in seven spice levels ranging from mild to extra hot to reaper (the hottest level). Sides on the menu include fries, kale salad and mac and cheese.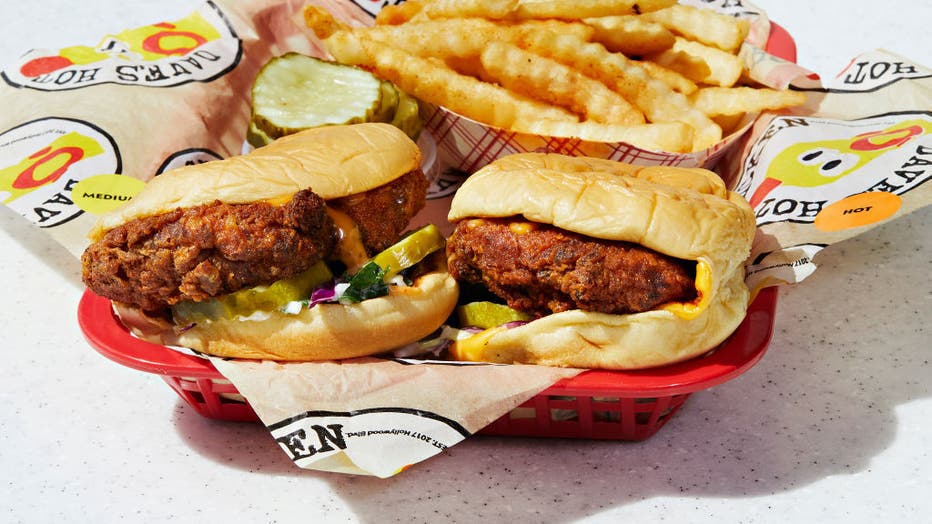 Dave's No. 2, with two sliders (medium and hot) and fries at Dave's Hot Chicken on April 25, 2023. (Photo by Deb Lindsey for The Washington Post via Getty Images).
The chain famous for its Nashville-style hot chicken tenders got its start as a pop-up in an East Hollywood parking lot in 2017. Now they have over 700 franchise locations in the U.S., Canada, and Middle East.
Congrats, Dave's!