Culver City to mandate face coverings to be worn at essential businesses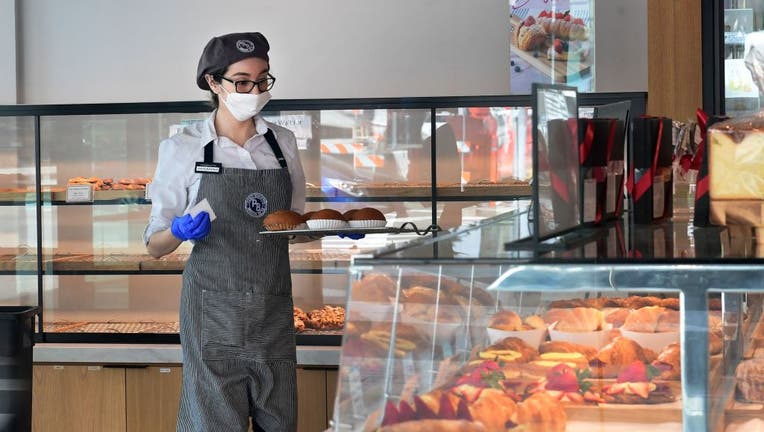 article
CULVER CITY, Calif. - Culver City announced on Wednesday it will follow Los Angeles' lead in requiring employees and customers to wear face coverings while inside businesses deemed essential during the coronavirus pandemic.  
Under the mandate that goes into effect Friday, workers and customers must wear face coverings such as cloth masks, scarves, bandannas or other kinds of clothing over their noses and mouths, according to City Manager John Nachbar.  
Locations, where the face coverings must be worn, include grocery stores, water retailers, farm and produce stands, convenience stores, warehouse stores, food banks, farmers' markets and other establishments engaged in the retail sale of household consumer products.  
RELATED: CoronavirusNOW.com: FOX launches national hub for COVID-19 news and updates.
Employees must wash their face coverings frequently, at least once a day, per the order. Single-use face coverings must be properly discarded into trash receptacles.  
Additionally, employers must permit their employees to wash their hands at least every 30 minutes, provide non-medical grade face coverings for their employees at the employer's expense and ensure employees have access to clean restrooms stocked with required cleaning products.  
Get breaking news alerts in the FOX 11 News app. Download for iOS or Android.
Employers must also implement social distancing measures to provide a 6-foot buffer between people, as much as they possibly can.  
The order says businesses may refuse admission or service to anyone who fails to wear a face covering.  
More details of the order and the full text are available at www.culvercity.org/home/ or by calling the city's coronavirus hotline at 310-253-6890.  
The city also has a coronavirus website at https://www.culvercity.org/live/public-safety/emergency-preparedness/current-disaster-information.