Community comes together to pick up the pieces in wake of Santa Monica lootings
SANTA MONICA, Calif. - At sunrise Monday, volunteers with brooms and buckets began cleaning the trail of devastation left by looters who took to the streets as demonstrators were protesting the Minneaplis in-custody death of George Floyd.
The destruction happened when a peaceful protest went wrong Sunday. It started around noon as a non-violent crowd march down Ocean Boulevard, with a couple hundred people protesting the Memorial Day police killing of Floyd. Soon after, however, looting was reported several stores in Santa Monica Place shopping center and on nearby Fourth Street, and news footage captured scores of people carrying merchandise and running out of stores that had been broken into.
The criminal destruction of local businesses and city property continued into the night, with law enforcement -- aided by the National Guard -- arresting hundreds people on various charges of looting, curfew violations, burglary and assault with a deadly weapon, according to Santa Monica police Chief Cynthia Renaud.
RELATED: Peaceful protesters don't want message behind George Floyd rallies overshadowed by violence
"What happened last night is not representative of this great Santa Monica community that values peaceful protests, equity, social justice and equality,'' Renaud said. "We made over 400 arrests last night; 95% of those arrested do not reside in the city of Santa Monica.''
Nine fires also were reported over the course of the evening, said Judah Mitchell, deputy chief of operations for the Santa Monica Fire Department.
RELATED: 95% of the 400 individuals arrested in Santa Monica traveled to the city, police say
"While I know it's difficult to find a bright spot in all of this destruction, we had no significant injuries last night and no loss of life,'' Renaud emphasized while standing at the entrance of the Santa Monica Pier Monday morning.
The police chief said the city looks different now than it did only a day ago, but she remains hopeful for better days ahead. Still, she noted that the department is preparing for whatever may come.
RELATED: More curfews issued in Santa Monica, Beverly Hills to try to stop further looting in LA County
"To our community, our safety is our top priority. We are here. We are ready. We have the National Guard at our side, and they will be with us through this event. We are monitoring intelligence activity at this moment to be prepared for whatever else might come our way. And we are putting physical barriers in place to ensure the protection of our city. There will be no tolerance for looting.''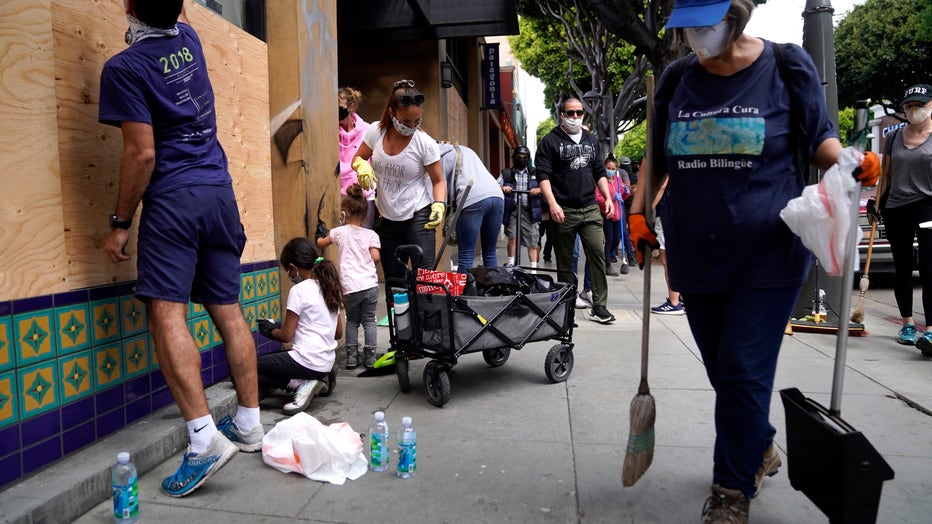 SANTA MONICA, CA - JUNE 1: Local volunteers gather to help repair and clean up the morning after rioting and looting caused widespread damage, on June 1, 2020 in Santa Monica, California. (Photo by Warrick Page/Getty Images)
Santa Monica has imposed another citywide curfew beginning at 1:30 p.m. Monday through 5:30 a.m. Tuesday.
In the meantime, O'Day praised the volunteers out cleaning the city.
"Where are we today in Santa Monica? Today we are rebuilding. We are not defeated.  We are brushing ourselves off. We are getting back to work, and we are getting our community together,'' he said. "Today we show the nation what community means and why it matters.''
He noted that public transit lines have reopened and that public works crews were out cleaning and assessing the damage first thing in the morning.
"We are going to get this community back on its feet, and we are going to appreciate every single soul who came out to support us, and we are going to continue our fight for systemic change and an end to racism in this country,'' he said.