More curfews issued in Santa Monica, Beverly Hills to try to stop further looting in LA County
LOS ANGELES - At least two cities in Los Angeles County hard hit by looting during demonstrations protesting the killing of George Floyd in Minneapolis plan imposed another curfew Monday to try to stop violence and looting that raged over the weekend, as religious, community and labor leaders call for an end to the demonstrations.
Santa Monica said on its city Twitter site that it would impose another curfew at 1 p.m. Monday for business districts and 4 p.m. citywide. Another citywide curfew in Beverly Hills will begin in the business district at 1 p.m. and at 4 p.m. Monday citywide and continue to 5:30 a.m. Tuesday, Mayor Les Friedman announced.
A coalition of South Los Angeles religious and community leaders planned a news conference late this morning to call for the end of protests that it said jeopardize public safety and human lives. The group includes Community Build CEO Robert Sausedo, Project Islamic Hope's Najee Ali and the Rev. Bill Johnson.
Get breaking news alerts in the FOX 11 News app. Download for iOS or Android.
And representatives of the labor, community and the clergy in Watts will call for peace in that community. The group "is calling for peace proactively as leaders who support peaceful protest, but will not allow violence to damage Watts like in 1965 and 1992,'' said John Jones III of the East Side Riders Bike Club.
A countywide curfew was imposed Sunday in Los Angeles from 6 p.m to 6 a.m. Monday after violence and looting broke out in Santa Monica, Long Beach and other areas.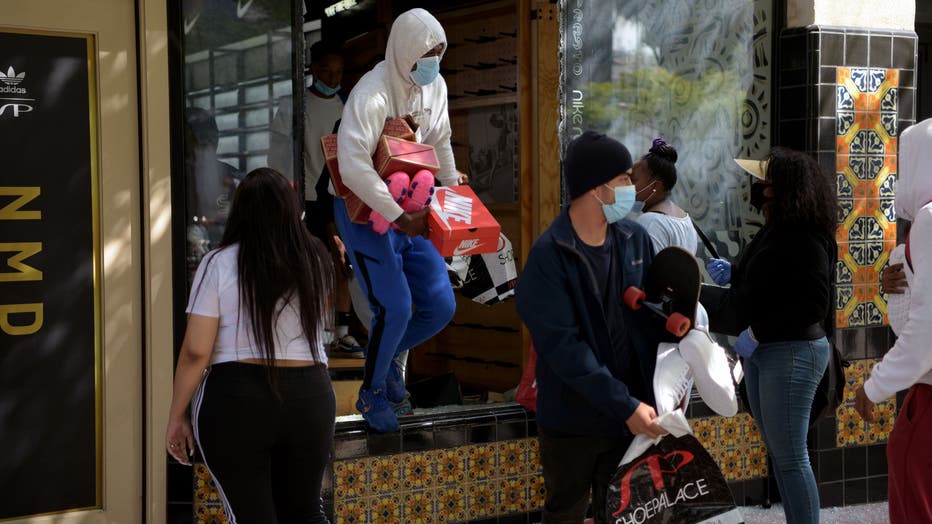 People jump out a broken window shop after looting shoes following a demonstration over the death of George Floyd at the hands of Minneapolis Police, in Santa Monica, California, on May 31, 2020. (Photo by Agustin PAULLIER / AFP) (Photo by AGUSTIN PA (Getty Images)
Beverly Hills was hard-hit Saturday along with L.A.'s Fairfax District and Santa Monica was under siege Sunday.
RELATED: Beverly Hills issues additional curfews on business district
A peaceful march down Ocean Boulevard that started around noon Sunday was overshadowed by looting reported at several stores in Santa Monica Place shopping center and on nearby Fourth Street. News footage showed many people carrying merchandise and running out of stores that had been broken into.
Santa Monica tweeted late Sunday it was beginning to get a handle on the day's events and that with the arrival of the National Guard it was focused on securing the city and restoring order.
National Guard troops who arrived early Sunday in downtown L.A. to help restore order after a weekend of sometimes violent protests and looting were confronted by some of the thousands of protesters who staged another march and rally in memory of George Floyd. The verbal confrontation became more active around 6:30 p.m. after the countywide curfew went into effect.
RELATED: Protesters try to stop looting at Third Street Promenade in Santa Monica
Los Angeles Mayor Eric Garcetti said he hoped the deployment of the National Guard to Los Angeles will be a "very short visit," but there is no fixed timeline.
In Long Beach Sunday, several thousand people took part in a protest that started at 3 p.m. at Long Beach Police Headquarters and marched along Ocean Boulevard and back to downtown, according to police and media accounts.
Looters began their assault around 5 p.m., hitting several businesses in The Pike Outlets including T-Mobile and Luxury Perfume. They also stole from the Jean Machine in the City Place Shopping Center, Mark Schneider Fine Jewelry in the Promenade, a Ross store and several businesses along Long Beach Boulevard including El Super and a CVS. They could be seen making multiple trips inside stores to carry out armfuls of merchandise, which they loaded into awaiting vehicles, taking selfies and smiling for television cameras.
The Long Beach police force was supplemented by mutual aid from area cities and the sheriff's department and was expecting National Guard troops, officials said.
Roughly 1,000 guard personnel were deployed after Gov. Gavin Newsom declared a state of emergency Saturday for all of Los Angeles County.
Board of Supervisors Chair Kathryn Barger announced Sunday that she has proclaimed a state of emergency as well, which will facilitate interagency response coordination and mutual aid, accelerate the procurement of vital supplies and enable future state and federal reimbursement of costs incurred by the county.
"This emergency comes as we are in the midst of battling another emergency caused by the COVID-19 pandemic. This taxes our resources, but not our resolve,'' Barger said. "We will do everything in our power to keep our communities safe and protect lives and property. I continue to call on our residents to maintain calm and seek solutions productively, not destructively."