City of San Clemente fights back against 241 toll road extension
SAN CLEMENTE, Calif. - Video from a neighborhood website shows all the reasons locals oppose a proposed extension of the 241 toll road to connect with the 5 Freeway.
San Clemente Councilwoman Kathy Ward says the toll road currently ends at Oso Parkway, but with the extension proposal it would go across a mountain to the 5 Freeway -- a mountain that has had slides and she worries building a toll road extension there could make the slides worse.
She, like others here, believes the road is not needed. Ward says, "Our city has done our own transportation study and we found the road is not necessary. It's only going to provide 1,400 cars a day and that is nothing."
But Ward says for those who live around here it's everything. She says:
-- It's more noise.
-- it's more cars.
-- it'll cost a lot of money.
It's less of what locals have come to appreciate about the area -- the quiet, the serenity along the coastline.
To make it more difficult on the agencies wanting to build, Ward says the city is looking to buy a parcel of land -- about 10 acres San Clemente would use as more open space. It's filled with deer, raccoons, birds, and all kinds of critters. To her, that's better than bulldozers and cars.
David Matza is with Caltrans. He says he's not surprised by the push back. Matza says, "people are very passionate about things they care about in their community."
He says the agencies have a number of alternatives, but right now it's all about input until Feb. 7. Then, the agency will look at all of it and digest it before anything else is discussed.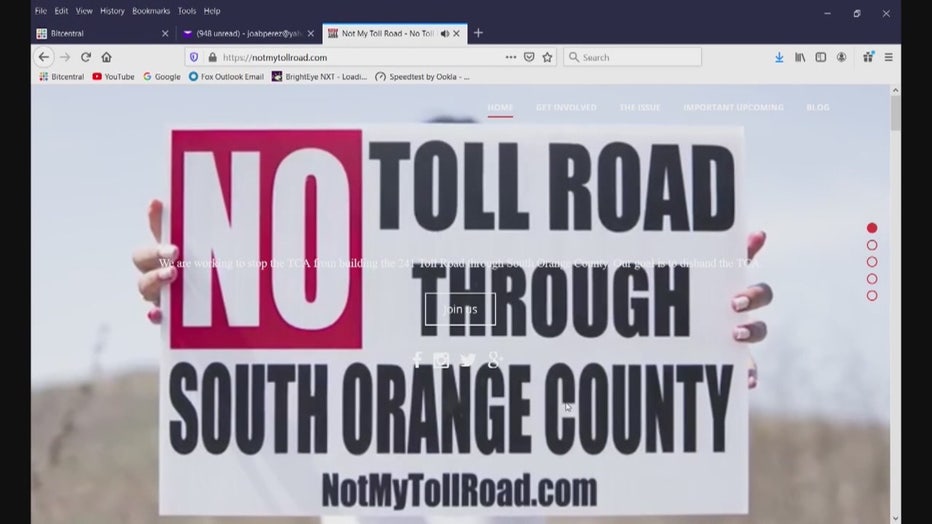 Also, a years-long environmental impact report would be required.
FOX 11 asked Matza if there is reason to think that the push back could affect movement on the proposal. He said, "nothing has been decided so we're looking at every idea. We're not favoring any idea...we don't have our own preferred alternative."
Another agency involved in all of this is the TCA (Transportation Corridor Agencies). Sarah King with TCA tells FOX 11, "TCA, Caltrans, and our local partners are working hard together to find solutions to improve mobility for our region." King reiterates that no decisions have been made.
But, Councilwoman Ward has made up her mind. She says, "We don't want another freeway bisecting us."
And, she wears those feelings wherever she goes -- on the back window of her Mercedes is a bumper sticker that reads: NO TOLL ROAD THROUGH SAN CLEMENTE.