CHP pursuit ends in La Puente crash
LA PUENTE, Calif. - A motorcyclist led the California Highway Patrol on a high-speed chase through Los Angeles County Saturday, that ended with a crash in La Puente. Now the motorcyclist is on the run.
The chase began around 4:40 p.m. on the 10 Freeway at Grand Avenue in West Covina, according to CHP Officer Stephen Brandt. The motorcyclist was wanted for speeding. The motorcyclist then led the chase off the freeway and into La Puente. 
Minutes later, two CHP patrol cars collided at the intersection of Hacienda Boulevard and Ector Street in La Puente, Brandt said.
SkyFOX got to the scene just as the chase had ended. According to FOX 11's Justin O'Brien, the cyclist collided with a blue four-door car near the intersection. According to reports, the blue car was trying to get out of the way of the motorcycle when it clipped the bike.
The blue car the crashed into a fire hydrant and stop sign at the intersection, while the two CHP cruisers crashed through a fence in front of a home on the corner.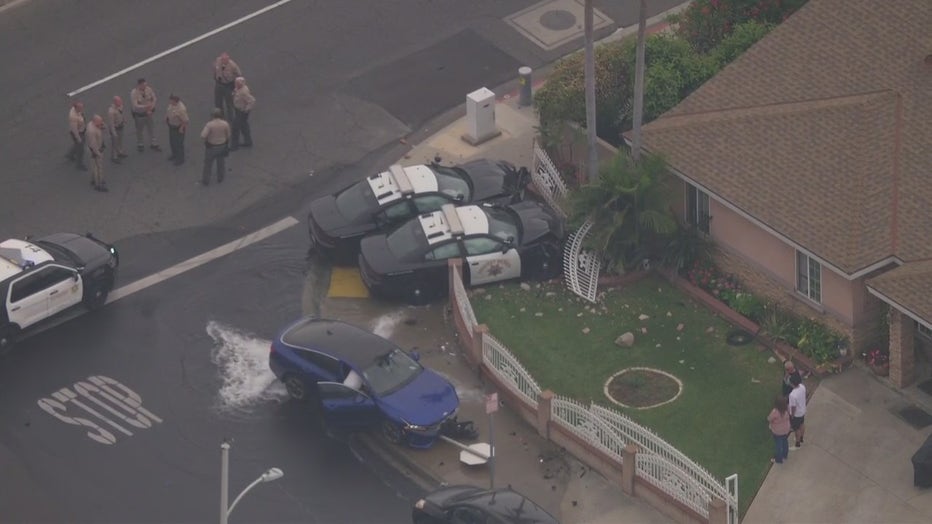 SUGGESTED: Police chase suspect sideswipes cars, evades officers across LA County
The driver of the motorcycle was able to get away in the immediate aftermath of the crash, but was arrested a short time later a few blocks away on Nantes Avenue in La Puente, Brandt said. 
City News Service contributed to this report.