LA Crime Spree: Murder suspect who dragged and killed carjacking victim in South LA linked to Reseda shooting
LOS ANGELES COUNTY, Calif. - One person is dead after they were caught in a horrific crime spree and a murder suspect accused of being linked to two deaths is in custody following a pursuit in South Los Angeles late Thursday night, officials said.
Earlier Thursday, LAPD homicide detectives arrested 20-year-old Miracole Brown of South LA and 28-year-old Derek Hall of West Covina, stemming from a murder that occurred in late July in the San Fernando Valley. Brown and Hall were booked on robbery and murder charges with a bail set at $2,000,000.
RELATED: Man fatally shot, 2 others wounded in overnight Reseda shooting
By Thursday afternoon, LAPD detectives obtained a murder arrest warrant for a third suspect in the July murder. The third suspect was identified as 31-year-old Joshua Reneau of Los Angeles. 
According to the Los Angeles Police Department, officers were in surveillance mode of Reneau's home in the 5900 block of 7th Avenue in South LA's Hyde Park neighborhood around 5 p.m. Thursday.
Officers observed Reneau get inside the back seat of a vehicle and drove off. LAPD officers tried to pull him over, but the suspect refused, prompting a police chase.
Officials said Reneau crashed the car near the intersection of Florence Avenue and Haas Avenue in South Los Angeles. After the crash, he then hopped out of the car and started carjacking a different vehicle. As he tried to drive off in the stolen vehicle, he dragged the carjacking victim. 
The person who was targeted by the carjackers was killed after being dragged by his own vehicle for two miles. 
Reneau proceeded to lead LAPD officers on a second police chase, which ultimately ended in a rollover crash near the intersection of East Florence Avenue and North Prairie Avenue in Inglewood. Following the crash, a SWAT standoff ensued as he refused to surrender to authorities.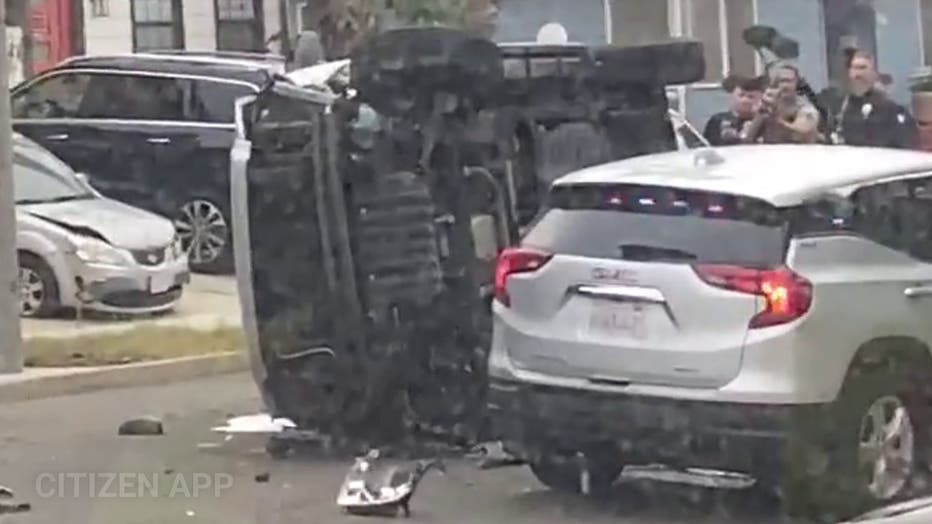 Following a lengthy standoff, law enforcement officers were eventually able to place the suspects in custody.
Reneau remains at the hospital for the treatment of his injuries sustained in the night of terror. He will be arrested and booked on a murder charge once he's released from the hospital. 
The driver of the first pursuit was identified as Jamal Sutherland, 34. He was booked for felony evading with no bail. The passenger in that pursuit was identified by the LAPD as 33-year-old Neosha Reneau. She was booked on a misdemeanor warrant and her bail was set at $1,000. 
The victim was later identified as 63-year-old Larry Walker.
RELATED: Victim dragged to death in Inglewood carjacking identified as La Habra man
Anyone with information involving Thursday's incident is asked to call LAPD's South Bureau homicide detectives at 323-786-5113.
July's murder in Reseda
During the early morning hours of July 29, West Valley Division officers were called to an assault with a deadly weapon call in Reseda. Officers found two wounded victims and multiple shell casings at the scene. Investigators determined the shell casings came from different handguns, indicating multiple suspects were involved. Detectives also said one of the victims was likely targeted for the jewelry he was wearing. Both victims were taken to the hospital for their injuries and survived the shooting. 
Within the hour, officers responded to a second location and found a third victim suffering from gunshot wounds. The investigation reveals the victim was a suspect at the first scene. Instead of taking him to a hospital, officials said the other suspects dumped his body at the second scene and left him to die. 
The shooting victim was identified by authorities as 32-year-old Earl Hunter. He was taken to a hospital where he died.
Reneau, Brown, and Hall all face murder charges in Hunter's death.