California sports controversy: Transgender student-athletes face protests amid national debate
As kids go back to school and get ready to participate in athletic programs, schools are gearing up for a controversy that is taking center stage in California and across the country. Parent groups have been protesting the participation of transgender student-athletes at high school track meets.
The CIF, or California Interscholastic Federation, found it necessary to release a statement saying, in-part, that they were "disappointed for two of our student-athletes and their families, because due to the actions of others, they found it necessary to withdraw from State Track and Field Championships out of concern for the student's well being."
Two transgender athletes, including Lorelei Barrett, from the Sherman Oaks Buckley Academy, have been the focus of attention as they won key races last season. Barrett ultimately withdrew from competition after protesters began to show up at the meets.
Both sides, between protesters and supporters, say they want the best for the kids, but disagree on how. Each side cites studies and research to make their point, saying that laws need to be changed.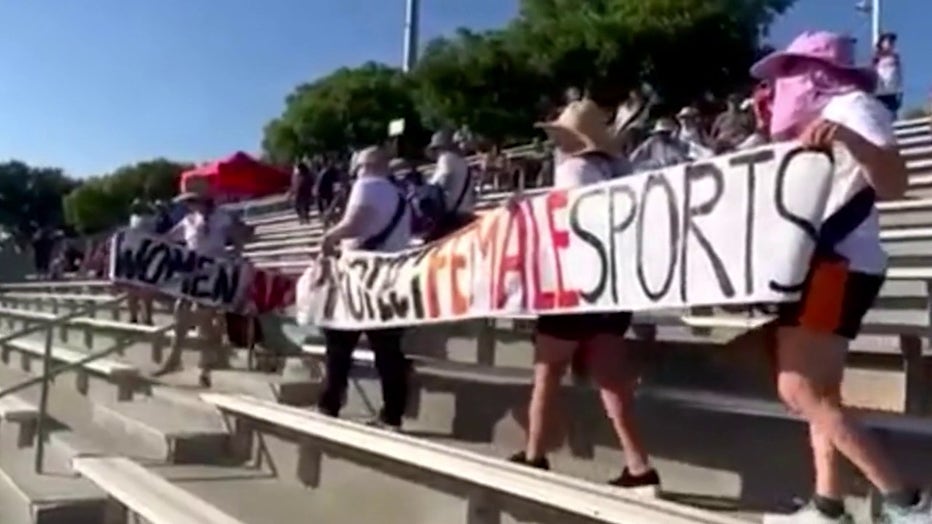 World Athletics, the international body recognized as governing international track and field, prohibits "male-to-female transgender athletes who have been through male puberty" from female world rankings competitions.
In the US, President Biden has proposed a rule to prohibit schools from banning transgender athletes from competition. Right now, states decide their own policy with California allowing students to participate in team sports, with the gender they identify with. Here is the policy:
Neither the students who have been the focus of the California protests, nor their families, were available for comment. The Buckley School issued a statement to FOX 11 reading:
"As the first sentence of Buckley's mission clearly states, we are a learning community "committed to equity and inclusion." This means we stand by and affirm the gender identities and expressions of all our students, in all our facilities, programs, and practices, including athletics."