California fast-food workers rally over wages, better working conditions
LOS ANGELES - Fast-food workers in Southern California are joining hundreds of others across the state to rally over wages and better working conditions.
FOX 11 was at the South Los Angeles location of McDonald's on West Manchester Avenue as employees walked out to show support for Assembly Bill 257, or AB 257.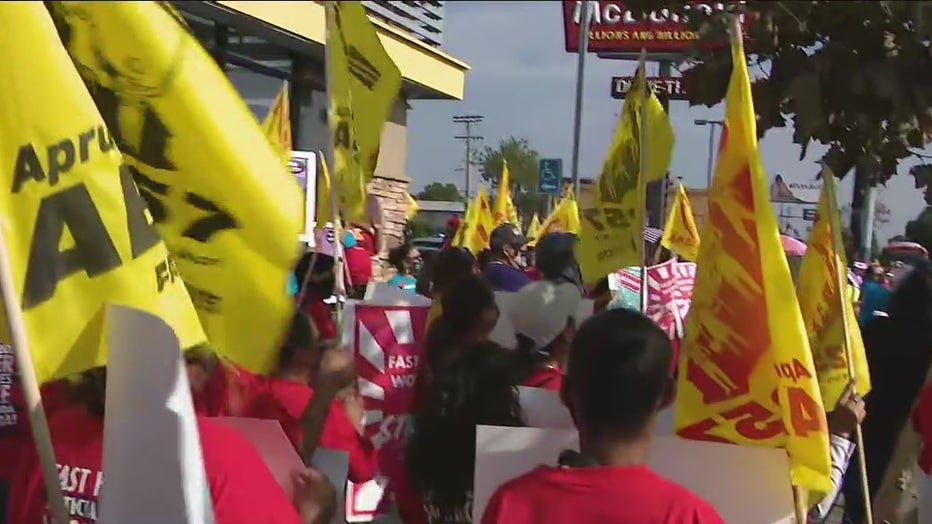 According to the bill, AB 257 would "require standards for minimum wages, maximum hours of work, and other working conditions fixed by the council to be the minimum standards for fast food restaurant employees and would require that they be enforced by the Division of Labor Standards Enforcement."
Get your top stories delivered daily! Sign up for FOX 11's Fast 5 newsletter. And, get breaking news alerts in the FOX 11 News app. Download for iOS or Android.
The council, as mentioned in the bill, includes workers, corporate representatives, franchise operators and state officials. The council will be in charge of putting together the standards on wages, hours and other conditions related to worker safety.
On Tuesday, McDonald's USA issued the following statement:
"McDonald's and its franchisees have always and will continue to prioritize the safety and well-being of crew and customers.
McDonald's franchise model allows thousands of small business owners to drive their own economic growth while playing an active role as responsible employers in their communities. McDonald's franchisees take pride in directly engaging with their crew, which empowers them to provide locally relevant benefits and programs that most resonate with their employees' needs, such as the appreciation bonuses, local gift cards and flexible schedules many franchisees offered throughout the pandemic. Measures in AB257 would disrupt this successful model, creating unnecessary obstacles for the small business owners who are best equipped to manage their restaurants and teams."
Below is the copy of AB 257:
This is a developing story. Check back for updates.