This California city is 1st in US to recognize legal rights of nonhuman animals
OJAI, Calif. - The city of Ojai is now the first in the U.S. to recognize the legal rights of a nonhuman animal. 
This comes after Ojai City Council this week voted 4-1 to adopt the ordinance introduced by Councilmember Leslie Rule and developed with the Nonhuman Rights Project (NhRP).
The ordinance defines and protects elephants' right to liberty.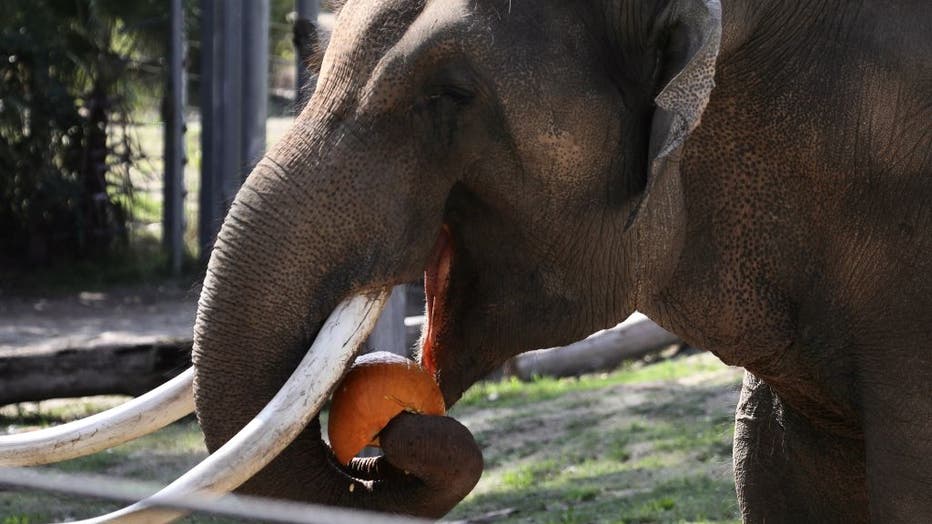 An elephant eats a pumpkin during the Los Angeles Zoo special pumpkin feedings for the celebration of Halloween in California, the United States, Oct. 31, 2021. (Photo by Str/Xinhua via Getty Images)
The ordinance spurred from the case of an elephant named Tarra, who was held in captivity in Ojai Valley in the early 1980s. Tarra was used for entertainment, including in an act where she was made to rollerskate.
In 1995, Tarra became the first resident of The Elephant Sanctuary in Tennessee, which is now recognized as the largest elephant sanctuary in the U.S. 
SUGGESTED:
Under the ordinance, it is illegal in Ojai to subject an elephant to a lack of freedom, as was Tarra's case.
"The ordinance expressly recognizes that elephants possess the right to liberty, prohibits any person from preventing elephants from exercising their right to liberty, and details how the law will be enforced and the penalty for violating it," the NhRP said. 
"Elephants have been found to be quite similar to humans; they are cognitively, emotionally and socially complex and are capable of suffering trauma and brain damage if they aren't allowed to roam freely or interact with other elephants."
Officials commended the Ojai City Council for passing the "historic" legislation in an effort to protect elephants' welfare.