What happened to Andrea Vazquez? Questions surround death of 19-year-old kidnapped in Whittier
WHITTIER, Calif. - Andrea Vazquez, a 19-year-old woman who was believed to have been kidnapped after a shooting incident at a Whittier park over the weekend, has been found dead, police confirmed Tuesday. A suspect has also been arrested in connection with her death.
Vazquez was last seen shortly after midnight Sunday, Aug. 20, in the parking area of Penn Park, according to the Whittier Police Department.
"An adult male witness reported that while at the park with an adult female companion, an armed suspect approached their vehicle and fired a weapon in their direction," police said in a statement. That same witness told police he ran from the car, and when he came back he found blood, and Vazquez missing.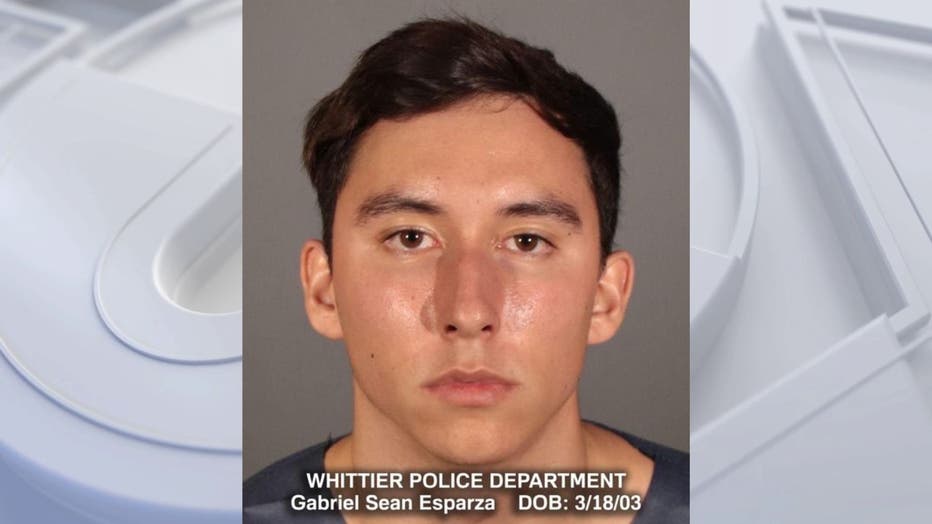 Gabriel Sean Esparza has been arrested in connection with Andrea Vasquez's disappearance. (Whittier PD)
After a day-long search, police said they found Vazquez's body in a vegetation field off Alessandro Boulevard and Merwin Street in Moreno Valley. Earlier that day, Whittier Police said they arrested a suspect, 20-year-old Gabriel Esparza, of Whittier, at his job in Lakewood. 
PREVIOUS COVERAGE: Andrea Vazquez missing: Woman possibly kidnapped after shooting in Whittier, police say
Authorities do not believe the suspect had any connection to Vazquez or her family.
FOX 11's Gina Silva was in Whittier Tuesday afternoon to hear from Vazquez's family, who had just learned of the 19-year-old's death.
Hours after the news of Vazquez's death, the community held a vigil in honor of the late teen.
Esparza is being held without bail for Vazquez's alleged kidnapping and murder. Authorities said he does not have a criminal record.
Police said they'll be presenting the case to the Los Angeles County District Attorney's Office for possible charges on Wednesday. 
No other information about the case was immediately available.
A GoFundMe campaign organized by the family can be found here.