2, including 14-year-old boy, arrested in killing of LA teen
Police announced Thursday that a man and a 14-year-old boy were arrested in the shooting death of a 16-year-old boy at a Boyle Heights recreation center. Alfonso Ramos, 16, was fatally shot shortly after 5 p.m. August 12 at the Evergreen Park Recreation Center, in the 2800 block of East Second Street, the Los Angeles Police Department reported.
"I'm happy they got them. I'm happy they did. I'm just not happy it's a child doing this to another child," said Alphonso Ramos's mother. "It hurts. I really does. No mother, no parent, should bury their own child."
LAPD stated that Ramos was inside the Evergreen Recreational Center when he was approached by two individuals who ultimately chased him down, confronted him, assaulted him and shot him several times. After shooting Ramos, the pair fled in a gray vehicle, authorities said.
"The subsequent investigation led to the identification of two suspects," an LAPD statement said.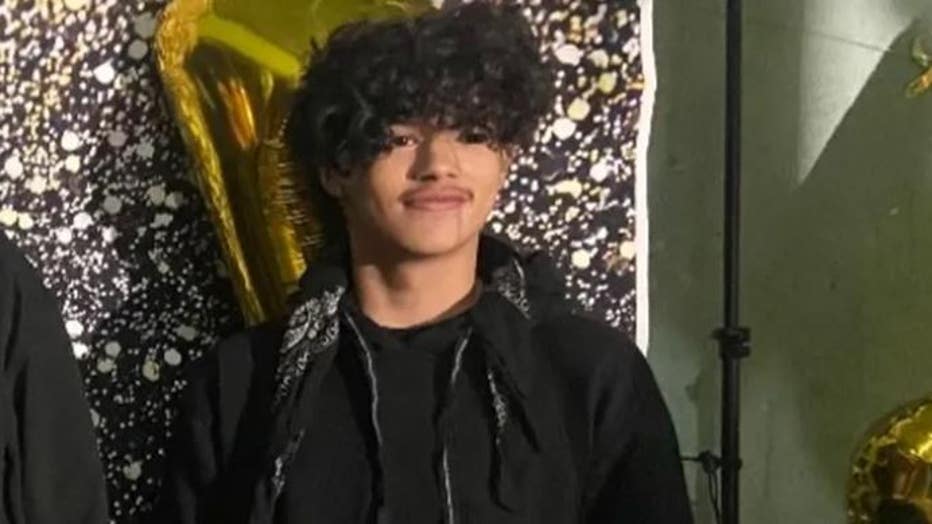 LAPD identified one of the suspects as 26-year-old Michael Monarrez. Detectives were making investigative efforts to locate the pair when a second incident occurred.
The adult suspect allegedly killed another man several days after Ramos' death, according to authorities.
"On Aug. 17, 2023, at approximately 10 a.m., Hollenbeck Area uniformed officers responded to the 500 block of Lorena Street for a shooting investigation," police said. "When the officers arrived they discovered a victim, identified as Fermin Ruelas, suffering from multiple gunshot wounds."
Ruelas, 45, died at the scene, according to the LAPD and the Los Angeles County Medical Examiner's office.
Chief Michel Moore said it seemed to allegedly be part of a gang rivalry in Hollenbeck Division.
Monarrez was arrested as a suspect in Ruelas' killing a short time afterward. Investigators then arrested the 14-year-old boy on August 18 who they said was involved with Monarrez in Ramos' killing.
The arrests were announced at a Thursday morning news conference at LAPD headquarters.
The Los Angeles District Attorney's Office filed two counts of murder against Monarrez, according to the LAPD.
While crime in the city of Los Angeles has gone down, Moore said crime has gone up in Hollenbeck Division. This division has seen 28 murders this year so far, much higher than last year's 19 murders, during the same time period.
According to a GoFundMe account established by his mother, Ramos was shot while working at the recreation center.
"During his short 16 years of life, he touched many lives with his sense of humor and his determination to better himself and his love for his family," Crystal Arellano wrote on the page. "He was a loving son, brother, nephew and cousin. Alfonso's loss has left a hole in the hearts of us all."
The teen had four siblings, according to the GoFundMe page.
Anyone with information on the shootings was urged to call detectives at 213-486-8700. During non-business hours or on weekends, calls should be directed to 877-LAPD-247.
Ramos' GoFundMe page can be found at https://www.gofundme.com/f/alfonso-ramos?utm_campaign=p_cp+share-sheet&utm_medium=copy_link_all&utm_source=customer