Without Kawhi Leonard and Paul George, Clippers face must-win game Tuesday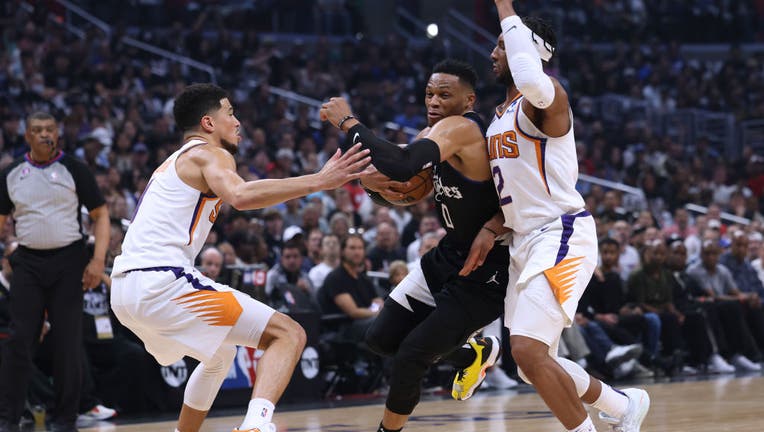 article
PHOENIX - With their backs against the wall without Kawhi Leonard and Paul George, the Los Angeles Clippers are not giving up. They face a must-win game Tuesday night in the desert.
PREVIOUS COVERAGE: LA Clippers on brink of playoff elimination following gut-wrenching Game 4 loss against Phoenix
The Clippers are down 3-1 in the first-round playoff series against the Phoenix Suns. If they win, the series moves back to Los Angeles for Game 6. If they lose, their season is over. 
"We have enough. We have enough to go win the whole series. So, we just have to get one in Phoenix and go from there," said Clippers' center Mason Plumlee on Monday. 
Despite the odds, the Clippers believe they can get it done and maintaining that confidence has been key throughout the series. 
"These guys know how to play. I just think the biggest part is the communication, keeping guys confident…especially in the playoffs. You never want one guy's confidence to waver," Clippers head coach Ty Lue said after Game 2. 
RELATED: NBA Playoffs: LA Clippers aiming to keep intensity and confidence in Game 2 against Phoenix
He shared similar remarks with reporters following Game 4's gut-wrenching loss at the Crypto.com Arena, with some questioning how the game was officiated. 
"Just stay with it, keep being encouraging. Don't pull guys out when they make a mistake and when they don't make shots. I think it's more so about giving those guys confidence to play through it a little bit and that's pretty much my formula," Lue told FOX 11's Kelli Johnson. 
Russell Westbrook has been phenomenal and has shocked those who doubted him with his career resurgence. It's his passion, tenacity, and energy making a difference for the Clippers. 
"You lead and communicate differently with guys based on ways to get them to respond," Westbrook said over the weekend. "Throughout games, if I see something, I try to find ways to lead and not talk too much, but make points, especially this time of year." 
The action begins at 7 p.m. PT on TNT.