Stafford injured in homecoming, Cowboys rout Rams 43-20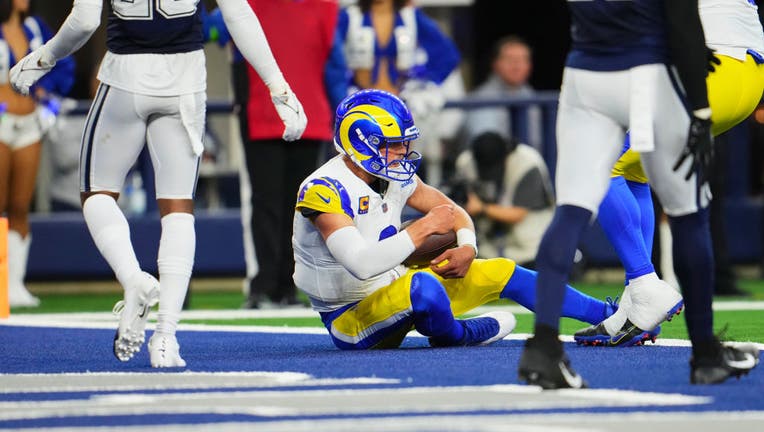 article
ARLINGTON, Texas - Dak Prescott threw two of his four touchdown passes to CeeDee Lamb, DaRon Bland recorded his NFL-leading third interception return for a score and the Dallas Cowboys beat the Los Angeles Rams 43-20 on Sunday.
It was a rough-and-tumble homecoming for Rams quarterback Matthew Stafford, who was replaced by Brett Rypien late in the third quarter after injuring a thumb on a failed 2-point conversion pass and ending up with a bloody elbow after catching another.
Sam Williams blocked a punt for a safety before KaVontae Turpin returned the ensuing punt 63 yards to set up Lamb's first TD grab, helping the Cowboys (5-2) to a 33-3 lead late in the first half in their 11th consecutive home victory.
The streak matches the club's longest since an 11-game run at Texas Stadium in 1991-92, almost two decades before AT&T Stadium opened.
SUGGESTED: Is Taylor Swift making Travis Kelce better? The stats say yes
Stafford led scoring drives on either side of halftime to help the Rams (3-5) trim a 30-point deficit to 16. But the former Dallas high school standout, visiting his hometown team for the first time as a Super Bowl champion, sent the Cowboys on their way with an early mistake.
Stafford threw behind Cooper Kupp to a waiting Bland for an easy 30-yard return and a 17-3 Dallas lead in the first quarter. Bland brought an interception back 22 yards for a score against the New York Giants in the opener before a 54-yarder in Week 4 against the Patriots.
The second-year cornerback is the third player since the 1970 merger with three pick-6s in the first seven games of a season. The NFL record for an entire season is four, last accomplished 30 years ago.
Despite getting sacked three times in the first quarter — with a fourth wiped out by a defensive penalty — Prescott finished the first half 17 of 21 for 225 yards. He ended up with his first 300-yard game of the season (25 of 31 for 304 yards with an interception).
Lamb had career highs with 12 catches for 158 yards, including another personal best with 122 yards before the break.
Dallas kicker Brandon Aubrey tied an NFL record with two field goals, giving him 18 consecutive makes to start his career. Travis Coons made his first 18 with Cleveland in 2015.
SUGGESTED: Watch: Andy Reid corn maze goes viral in Missouri
Stafford injured the thumb on his throwing (right) hand when it jammed into a Dallas helmet on an errant throw in the final seconds of the first half.
The 35-year-old's elbow was bloodied after he caught a 2-point pass from Tutu Atwell just above the turf and fell across the goal line following his 20-yard scoring toss to Ben Skowronek.
Rams receiver Puka Nacua had three catches to set a league record for the most catches through the first eight games of a career with 61. But he fell short of the 51 yards needed to set that mark as well, finishing with 43.
The Rams head to Green Bay next week to take on the Packers before their bye week. The Cowboys head to Philadelphia next Sunday.