Sonoma Raceway FOX Bet Super 6 contest: Clint Bowyer shares NASCAR insight, picks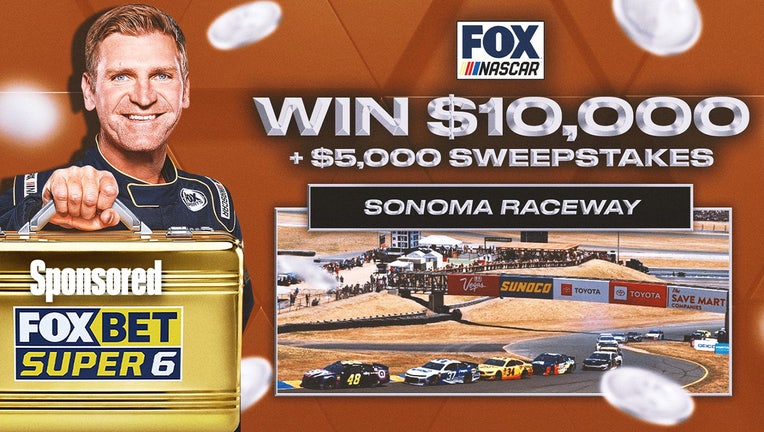 article
Wine country. Road-course racing. NASCAR. Combine those, and you've got a trifecta for a perfect June weekend. And this Sunday on FOX and the FOX Sports App is when it all goes down as NASCAR's Toyota/Save Mart 350 runs at Sonoma Raceway. 
"Let's just put it this way," FOX NASCAR analyst Clint Bowyer said, "You go to a lot of these different racetracks all over the country, and you look over, and you're sitting there by yourself. But at Sonoma, you look over, and that baby's full!"
According to this former NASCAR champion, from the crowds to the course, it just doesn't get much more special than Sonoma.
"Road courses are becoming more common. And this race is one where you go out there, and you don't have a ton of expectations, which I think leads to a lot of fun and a lot of unknowns. And I love the fact that we're going there with no stages this time.
"I think that was the right call."
Clint explained that with no stages, drivers' success would come down to fuel mileage and pit strategy. Bowyer, himself, famously drove into Victory Lane back in 2012 at this very track.
"The year I won, cautions started coming out at the end. We were on a strategy to stay out, and we were on old tires saving fuel. And it came right down to the wire. It was a really good track to me, even though it was way out of my wheelhouse."
What is in Clint's wheelhouse is identifying which drivers have risen to the occasion this season and which ones have fallen short.
"The pleasant surprise has been seeing new teams like RFK [Roush Fenway Keselowski] running well and turning the corner. Then you've got 23XI and Bubba Wallace. He's been solid this year, with four top-five finishes in a row. 
"A disappointment? Chase Elliott, struggling. Yeah, he got hurt, but he really didn't bounce back the way I expected him to. Stewart-Haas Racing has been disappointing because that team's been a no-show this year. There are even some two-car teams that are outperforming them on a regular basis."
As for outperforming the rest, race weekend at Sonoma is a fantastic opportunity for you to prove that you have a leg up on the competition by playing FOX Bet Super 6.
FOX Bet Super 6 is a free-to-play contest where you can pick six different outcomes in the NASCAR Contest featuring Toyota/Save Mart 350 to win Clint Bowyer's $10,000. Just download the FOX Bet Super 6 app on your phone or mobile device, make your picks and submit your selections before the race gets underway this Sunday.
And since Sonoma is extra special, we're giving you an extra chance to win even more cash by entering the $5,000 sweepstakes. After you submit your picks for Clint's cash, opt in to win the $5K sweepstakes. If your name is pulled — even if you don't get all the $10K FOX Bet Super 6 questions correct — the five grand could be yours.
Remember, FOX Bet Super 6 is always free, it's easy and it's fun. And people really do win!
And if you need a little help with your picks, Clint has you covered. Before heading to the app to make your picks for this weekend's big race, check out Clint's expert picks below.
Sonoma Raceway: Clint Bowyer's FOX Bet Super 6 picks
Where will the pole-sitter finish at the end?
1st-2nd, 3rd, 4th, 5th-6th, 7th-8th, 9th+
"I would think that the pole-sitter finishes third this weekend in Sonoma."
Prediction: 3rd
Which driver — Chase Elliott or Joey Logano — will have a better finish at the end of the race and what place will they finish?
1st, 2nd, 3rd, 4th, 5th, 6th, 7th, 8th, 9th+
"Oh, yeah, Chase is going to outduel Joey."
Prediction: Chase Elliott, 5th
Which driver — Kyle Larson or Christopher Bell — will have a better finish at the end of the race and what place will they finish?
1st-2nd, 3rd-4th, 5th-6th, 7th-8th, 9th, 10th, 11th, 12th, 13th+
"Let's see. Larson or C. Bell? I gotta go with Larson. And that's because I think the Hendrick cars are better on road courses, and I think that Larson is just a better road-course racer than C. Bell. But then a lot of it has to do with the equipment they're sitting in."
Prediction: Kyle Larson, 5th-6th
Which manufacturer — Chevrolet or Ford — will have more cars in the top 10 and how many will they have?
0-2, 3, 4, 5, 6, 7+
"Chevrolet. All the way!"
Prediction: Chevrolet, 4
Which driver — Kyle Busch or Austin Dillon — will have a better finish and what place will they finish?
1st-2nd, 3rd, 4th, 5th, 6th, 7th, 8th, 9th, 10th+ 
"Austin struggles badly on road courses, and Busch is coming off a win, so he's got momentum."
Prediction: Kyle Busch, 7th
Which driver — Brad Keselowski or Kevin Harvick — will have the better finish at the end of the race and by how many positions?
1-2, 3, 4, 5, 6, 7, 8, 9, 10+
"I think Harvick gets the edge here. Brad's an accomplished racer, but he's not lights-out fast on road courses."
Prediction: Kevin Harvick, 8
Final thoughts… and how to play
After Clint gave us his picks for this weekend, our expert gave us his forecast for how the rest of the NASCAR season could unfold.
"Well, clearly, the Hendrick camp is here to stay, right? They're here for the long haul. They're going to be racing for a championship, I believe. Then you got Chase Elliott, who you have to keep an eye on because it'll be a pretty big deal if he misses those playoffs. Can he pull it all together and get this season turned around?"
But Bowyer's got another driver on his must-watch list, and he has a bold prediction for a team that he thinks will win this year.
"Kevin Harvick's in his last season, and he and Stewart-Haas are struggling. You have to watch to see if he can even make the playoffs and contend for his last championship. And finally, I believe that RFK could win a race by the end of the season."
So are you ready to play for $10K plus the $5K sweepstakes?
Download the FOX Bet Super 6 app and submit your selections for the NASCAR Contest featuring Sonoma Raceway right now and remember to opt in to win the special $5,000 sweepstakes. Then be sure to share your picks with us by tagging @FOXSuper6 and @EricaReneeD and using the #EricaSuper6 hashtag across all social media platforms.
Good luck!
Download the FOX Bet Super 6 app for your chance to win thousands of dollars on the biggest sporting events each and every week! Just make your picks and you could win the grand prize. Download and play today!
No purchase necessary. Open to legal residents of the US, excluding WA. 18 and older. See terms and conditions at foxsuper6.com. Sponsored by TSG Interactive US Services Limited.