Shohei Ohtani suffers elbow injury, will not pitch rest of 2023 season
LOS ANGELES - Did baseball fans just see the last time Shohei Ohtani pitched for the Los Angeles Angels?
On Wednesday, Ohtani was pulled from the mound in the second inning of Game 1 of the doubleheader against the Cincinnati Reds after showing apparent signs of discomfort. 
The Angels later revealed after Wednesday's doubleheader that he may have torn his ulnar collateral ligament and will not pitch for the rest of the season.
Ohtani's early exit further highlights the nightmare summer the Halos have endured in the 2023 season. The Angels entered Wednesday's game with more than nine games back of the third and last American League Wild Card spot, making the Halos' chances of making the postseason a longshot with less than six weeks of baseball left in the regular season.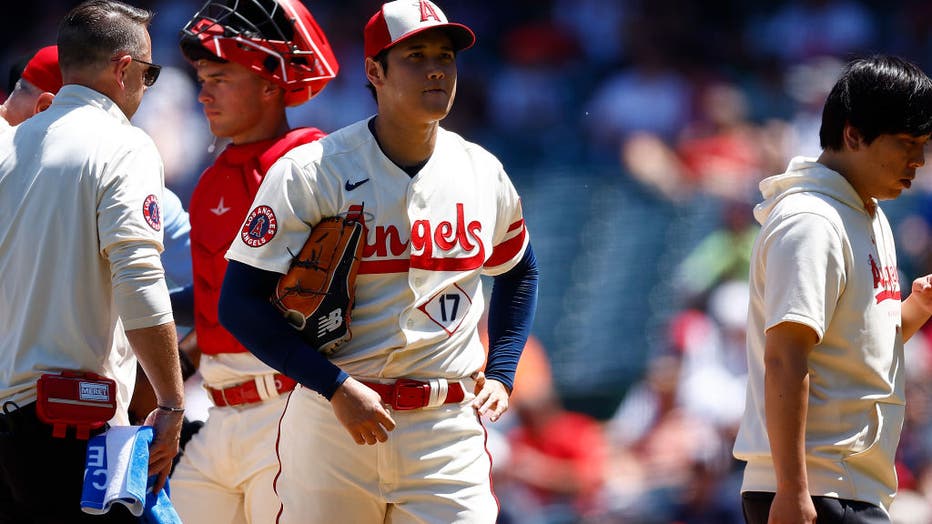 Shohei Ohtani #17 of the Los Angeles Angels leaves the game against the Cincinnati Reds. (Photo by Ronald Martinez/Getty Images) (Getty Images)
When one considers the Angels' slim playoff hopes and ongoing red flags involving Ohtani's elbow, was Wednesday the last time the former MVP is taking the mound in a Halos uniform?
While we know what's next for Ohtani's fate as pitcher, it is unknown what will happen for Ohtani, the hitter.
However, the 2023 season marks the final season of Ohtani's current contract. It has been discussed ad nauseum between MLB insiders of how winning will play a big role on Ohtani's decision-making process for where he'll play next. Should the Halos miss the playoffs this season, there is a world where Anaheim may be pushed down in Ohtani's shortlist of desired destination for the 2024 season and beyond once he becomes a free agent.
So here's what's next for baseball fans hoping to watch Ohtani in-person as a possible DH in Anaheim: After Wednesday, the Halos will not play another home game at Angel Stadium until Monday, September 4 – which kicks off a 7-game homestand. After that, the Angels will host the Detroit Tigers for a three-game series Sept. 15-17 and the season's final homestand will take place Sept. 25 to the regular-season finale Oct. 1.