Sean McVay: Deion Sanders 'absolutely' would make a good NFL head coach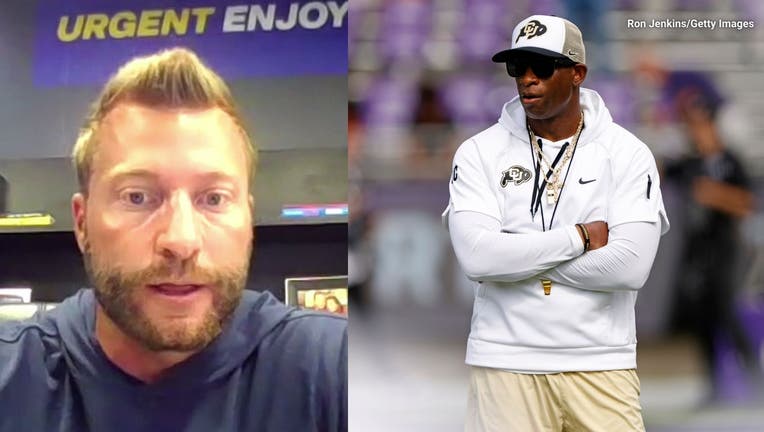 article
LOS ANGELES - Los Angeles Rams head coach Sean McVay is all in on "Prime Time." In an interview with 710 ESPN Los Angeles' Mason and Ireland show, McVay believes Colorado Buffaloes head football coach Deion Sanders would make it as coach in the NFL.
"Do you think [Sanders] would make a good NFL head coach?" asked ESPN LA host Steve Mason.
"Absolutely," McVay told Mason. "Football is football. He's done a great job at a bunch of different levels. He's a motivator."
McVay told Mason he grew up watching Sanders' NFL playing career, especially when McVay's grandfather John was the San Francisco 49ers front office. That being said, the younger McVay is a huge fan of "Prime Time."
"He won Defensive Player of the Year the one year he was there [with the 49ers] and they won the Super Bowl," McVay said in the ESPN LA interview. "I've always loved Deion."
Sanders, who is in his first year with the Buffs after coaching Jackson State for three seasons, has taken the college football world by storm. "Prime Time" took over a Colorado football team that finished 2022 with a 1-11 record and has led the current group of Buff to a 2-0 record with back-to-back statement wins over reigning College Football Playoffs finalist TCU and Big Ten's Nebraska.
During his hall-of-fame NFL playing days, Sanders was considered by many as one of the most league's most electrifying stars and is considered one of the greatest defensive backs of all time. In 14 seasons in the NFL, Sanders was named an All-Pro six times, in addition to winning Defensive Player of the Year in 1994 (as McVay mentioned), was named to the Pro Bowl eight times and won two Super Bowls.
College football fans in Los Angeles will get a chance to see "Coach Prime's" Buffs in-person later in the regular season as Colorado faces UCLA at the Rose Bowl on Saturday, October 28. USC plays the Buffs on September 30, but the game will be in Boulder.