Mack sets franchise record with 6 sacks while Chargers beat Raiders 24-17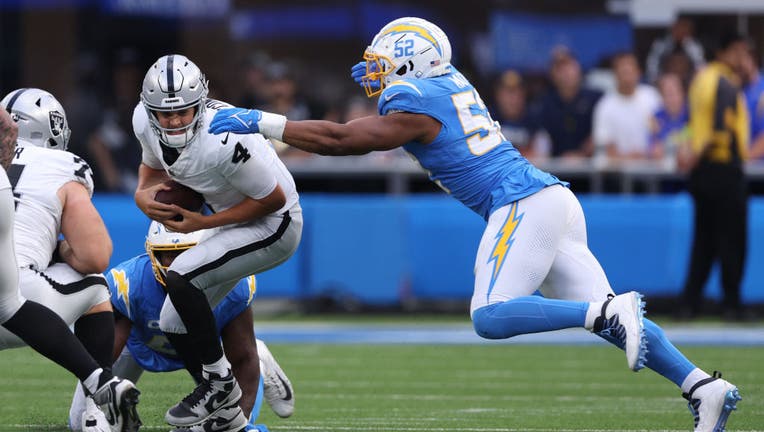 article
INGLEWOOD, Calif. - Khalil Mack set a franchise single-game record with six sacks, Justin Herbert accounted for three touchdowns and the Los Angeles Chargers held on to beat the Las Vegas Raiders 24-17 on Sunday.
It was the sixth time since sacks became an official statistic in 1982 that a player had at least six in a game. The record is seven, by Kansas City's Derrick Thomas in 1990.
The Chargers (2-2) scored on four of their first five drives to build a 24-7 halftime lead before the Raiders rallied to make it close. Las Vegas was driving for the tying touchdown when Asante Samuel Jr. picked off Aidan O'Connell's pass at the Chargers 2-yard line with 2:33 remaining.
SUGGESTED: Damar Hamlin returns to action in first regular-season game since cardiac arrest
It looked like the Raiders (1-3) might get one final chance, but Herbert completed a 51-yard pass up the left sideline to Joshua Palmer on third-and-10 from the Chargers 11 to ice the game.
Herbert completed 13 of 24 passes for 167 yards with a touchdown and an interception. He also had 30 yards rushing and a pair of scores.
The Chargers won their second straight despite playing without three defensive starters — safeties Derwin James Jr. and Alohi Gilman and linebacker Joey Bosa.
SUGGESTED: Nacua catches TD in OT, Rams beat Colts 29-23
O'Connell, who got the start with Jimmy Garoppolo in the concussion protocol, completed 24 of 38 passes for 238 yards and an interception. Josh Jacobs had 139 scrimmage yards, including 81 receiving, and a touchdown.
Herbert's 12-yard keeper to complete the game's opening drive made him the fifth player in NFL history to have at least 100 passing touchdowns and 10 rushing scores in the first four seasons of a career.
Los Angeles extended its lead to 17-7 midway through the second quarter when Herbert connected with Keenan Allen for a 7-yard touchdown. The Chargers took over on the Raiders 36 after Austin Johnson recovered O'Connell's fumble when he dropped the ball while under pressure in the pocket.
Daniel Carlson's 22-yard field goal got Las Vegas within two touchdowns late in the third quarter. Jacobs went up the middle on fourth-and-goal from the 1 to get the Raiders within 24-17.
Mack joined the Hall of Famer Thomas as the only players with multiple games of at least five sacks. Mack had five sacks in a 2015 game against the Broncos when he was with the Raiders.
Mack had three sacks in the third quarter. He also had a strip-sack of O'Connell during the second quarter that Austin Johnson recovered at the Raiders 35. Six players later, Herbert put it over the goal line on fourth-and-goal from the 1 to extend the Chargers' lead to 24-7.
SUGGESTED: Taylor Swift to make appearance at Chiefs game at MetLife Stadium: reports
It was a testy reunion for Raiders defensive tackle Jerry Tillery. Tillery, a Chargers first-round pick in 2019, was ejected midway through the second quarter for a late hit on Herbert on the Chargers' sideline.
Herbert was already out of bounds after a 3-yard scramble when Tillery hit him high and made contact with Herbert's head. That immediately drew a crowd of powder blue jerseys and coaches trying to get at Tillery, who was penalized for unnecessary roughness and ejected.
It's not the first time Tillery has made a boneheaded play at SoFi Stadium. He drew an unsportsmanlike conduct penalty during the fourth quarter of last December's game against the Rams that allowed the Rams to score a go-ahead touchdown.
Up next, the Raiders host the Green Bay Packers on Monday Night Football on Oct. 9. The Chargers meanwhile have their bye week in Week 5 before hosting the Dallas Cowboys on Monday Night Football on Oct. 16.