Nacua catches TD in OT, Rams beat Colts 29-23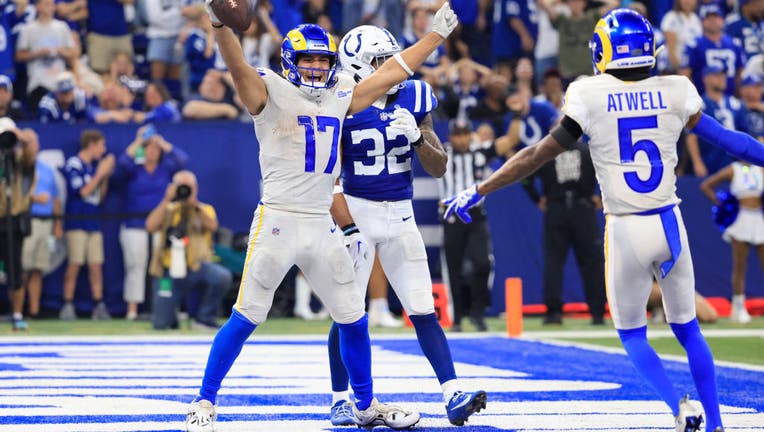 article
INDIANAPOLIS - Matthew Stafford overcame a hip injury that left him limping at times Sunday to throw a 22-yard touchdown pass to record-breaking rookie Puka Nacua in overtime to give the Los Angeles Rams a 29-23 victory over the Indianapolis Colts.
The Rams (2-2) have won four straight in the series, three in a row in Indy — this one coming after they blew a 23-point lead in the final 21 minutes of regulation.
Stafford was 27 of 40 with 319 yards, one touchdown and one interception. But it was his grit that won this one.
He was injured while being driven into the ground in the third quarter. Following an interception on the next play, he wore a heating wrap around his waist and when he returned to the game was limping noticeably. Twice, he slipped with nobody near him.
And yet, Stafford mustered enough to help the Rams avoid an embarrassing collapse. Nacua had nine receptions for 163 yards.
SUGGESTED: Taylor Swift to make appearance at Chiefs game at MetLife Stadium: reports
Indy (2-2) was trying to win its second straight overtime game behind rookie Anthony Richardson's remarkable rally. He threw a 35-yard TD pass to Mo Alie-Cox before scoring on a 1-yard run. Then he capped the performance with a 5-yard TD pass to Drew Ogletree and the tying 2-point conversion throw to Michael Pittman Jr. with 1:56 to go.
But he couldn't close out the rally in regulation and never got the ball in overtime.
The Rams scored on each of their first four drives, getting two TD runs from Kyren Willams and two field goals from Brett Maher to take a 20-0 halftime lead.
Nacua, a fifth-round pick, has 39 catches for 501 yards. On Sunday, he surpassed Anquan Boldin (30) for the most receptions by an NFL player in his first four games. He also has the most yards by any NFL player in his first four games and became the first since Harlon Hill (Chicago Bears, 1954) with three 100-yard efforts in his first four games.
Meanwhile, Richardson became the first quarterback in the Super Bowl era to score on a touchdown run in his first three career games. His fourth TD run made him only the fourth player — and the first quarterback — since 2000 with four rushing scores in his first three games, joining LaDainian Tomlinson (2001), Jahvid Best (2010) and Kareem Hunt (2017).
Up next, the Rams begin a three-game homestand against the defending NFC champion Philadelphia Eagles next Sunday. The Colts host their division rivals the Tennessee Titans next Sunday.