Kobe Bryant's daughter Natalia throws first pitch at Dodgers game for Lakers night
LOS ANGELES - The Los Angeles Dodgers hosted basketball's royal family Friday as they celebrated the Lakers. For the team's "Lakers Night," the Dodgers brought in Natalia Bryant, daughter of the late Kobe Bryant, to throw out the ceremonial first pitch with her family cheering her on.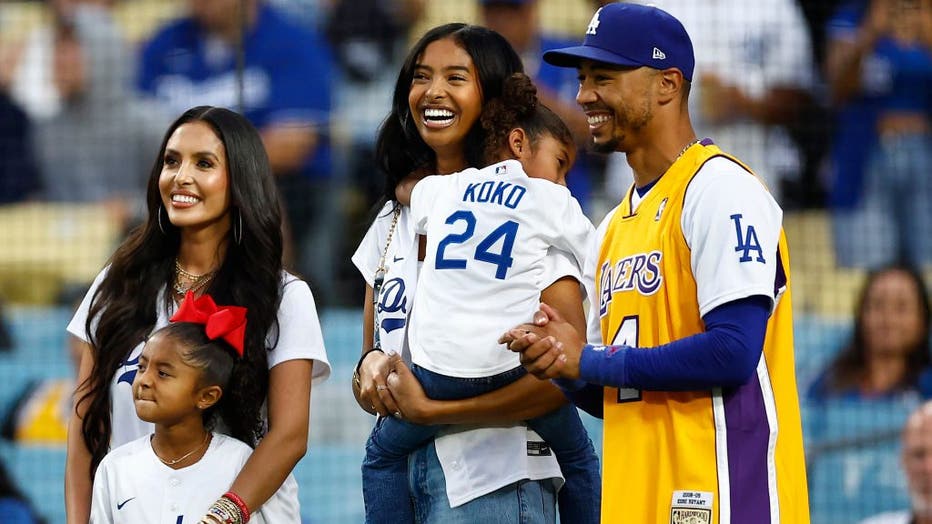 Vanessa Bryant, Bianka Bryant, Natalia Bryant, Capri Bryant and Mookie Betts before a game between the Atlanta Braves and the Los Angeles Dodgers on "Lakers Night" at Dodger Stadium on September 01, 2023 in Los Angeles, California. (Photo by Ronald M
Natalia Bryant was honored prior to Friday's game at 7:10 p.m. The ceremony marked a very cool like-dad-like-daughter moment as her late father was chosen to throw out the first pitch in 2000 at Dodger Stadium.
Friday's ceremony is part of the annual game honoring the 17-time NBA champions. Fans with a special ticket to Friday's game against the Atlanta Braves received a sweet Kobe Bryant-themed jersey.
The black snakeprint jersey pays tribute to the Laker legend by having No. 8 in the front of the jersey and the back of the jersey having "Bryant," with No. 24 right underneath it.
RELATED: LA Dodgers to honor Kobe Bryant with exclusive jersey giveaway on Lakers Night