Dodgers to open 2024 season in South Korea
LOS ANGELES - Get your passports ready, Dodger fans! The Los Angeles Dodgers will start the 2024 MLB regular season in South Korea next spring.
As part of MLB's world tour, the Boys in Blue will face the San Diego Padres in Seoul for a two-game series on March 20 and March 21.
While the Dodgers do not have a South Korean-born player on the team's active roster this season, longtime fans of the Boys in Blue are quick to remember the times former All-Star Chan Ho Park and now-Toronto Blue Jay Hyun-jin Ryu dominated from the mount during their time in LA.
On the other side, the Padres will feature infielder Ha-seong Kim, who is a fan favorite in San Diego. Kim played a major part in the Padres' 2022 postseason run that took the Friars all the way to the NLCS.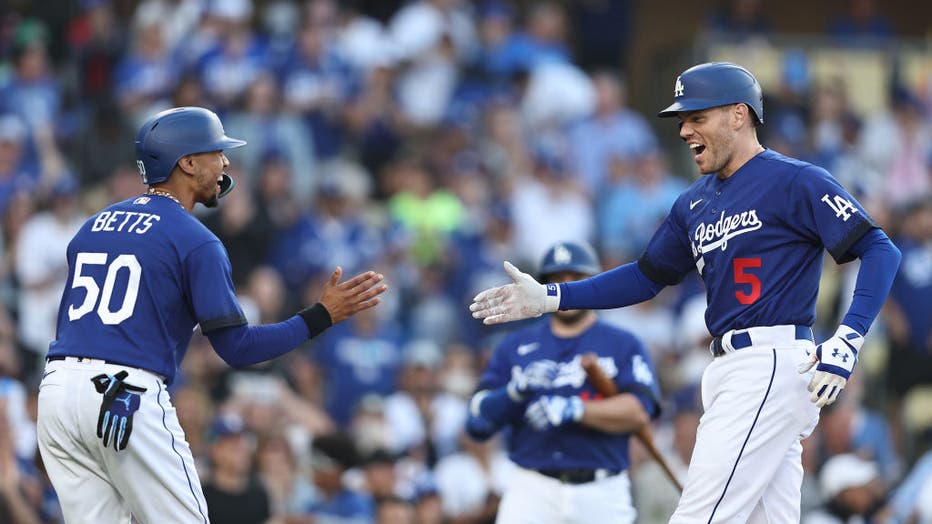 Freddie Freeman #5 of the Los Angeles Dodgers celebrates with teammate Mookie Betts #50 after hitting a two-run home run against the Pittsburgh Pirates. (Photo by Michael Owens/Getty Images)
As of Wednesday afternoon, the Dodgers have not released a link for fans to look up tickets for the Seoul series.