Chargers blow 27-point lead, lose to Jaguars on last-second field goal 31-30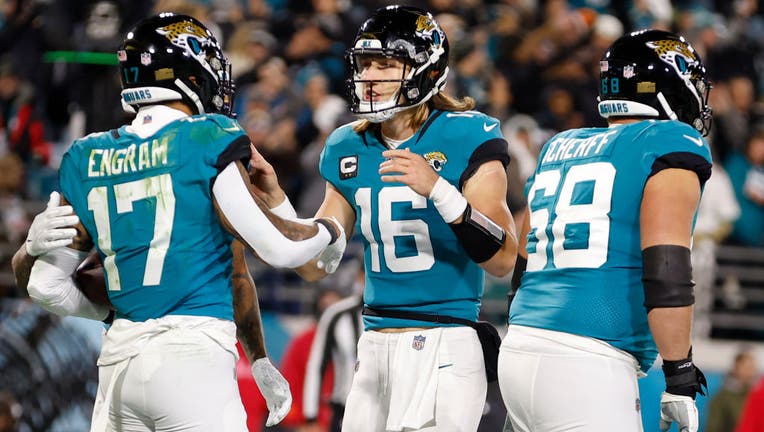 article
JACKSONVILLE, Fla. - Trevor Lawrence followed four interceptions with four touchdown passes — one of the most improbable turnarounds in NFL postseason history — and rallied the Jacksonville Jaguars to a 31-30 victory over the Los Angeles Chargers on Saturday night.
Lawrence engineered the winning drive, highlighted by Travis Etienne's 25-yard run on a fourth-and-1 play, and put the Jaguars in position for Riley Patterson's 36-yard field goal on the final play. It capped a 27-point comeback, the third largest in playoff history.
Patterson's kick barely stayed inside the right upright and set off a raucous celebration for a franchise that had won just four games the previous two years.
This one was mostly a credit to Lawrence. He completed 28 of 47 passes for 288 yards, a shocker considering the way he started.
Lawrence was downright dreadful to begin Jacksonville's first playoff game since losing in the 2017 AFC title game. He became the third quarterback in the Super Bowl era to throw four interceptions in the first half of a playoff game, joining Detroit's Gary Danielson and Denver's Craig Morton.
The Jaguars became the first team in the Super Bowl era to win a playoff game with a turnover differential of minus-5 or worse. Teams with that margin had been 0-19.
SUGGESTED: Buffalo Bills' Damar Hamlin visits team since leaving hospital, AP source says
Lawrence misfired early and often and started getting booed long before halftime. His confidence seemed shot. His swagger appeared gone. All the progress he made in his first season with coach Doug Pederson looked like it would be flushed in the team's finale.
But Lawrence never wavered. He connected with Evan Engram, Marvin Jones, Zay Jones and Christian Kirk for touchdowns that increasingly raised the team's belief in its quarterback and its comeback.
Lawrence added one of the biggest plays when he jumped for a 2-point conversion with 5:25 to play that made it 30-28 — and put the Jaguars in position to win instead of tie.
Jacksonville's defense responded by sacking Justin Herbert and then forcing a punt. Lawrence took over from there.
SUGGESTED: Sean McVay 'excited' to return as LA Rams head coach
GAME-CHANGING PENALTY
Jaguars rookie Travon Walker, the first overall pick in the 2022 NFL draft, was flagged for unnecessary roughness after a second-down sack in the fourth quarter. Instead of facing third-and-13, the Chargers got 15 yards and an automatic first down. It helped set up a field-goal attempt, but Cameron Dicker missed a 40-yarder that turned out to be huge.
It looked like it would be the third time this season that Walker had a costly penalty late in a game.
He was flagged for roughing the passer on a third-and-12 play — an incomplete pass — that helped Indianapolis beat Jacksonville in Week 6. A week earlier, he tossed Houston quarterback Davis Mills to the ground long after the whistle, drawing a 15-yard penalty for unnecessary roughness and turning a third-and-20 play into a first down. Houston found the end zone seven plays later and won.
KEY INJURIES
Chargers receiver DeAndre Carter and left tackle Jamaree Salyer left the game with ankle injuries. Chargers cornerback Michael Davis left with a pectoral muscle injury. Lawrence cut the tip of his left thumb in the fourth but wrapped it up and played on.
UP NEXT
Chargers: Will have a tough offseason dealing with this loss.
Jaguars: Await their road divisional opponent, which likely will be top-seeded Kansas City next weekend. The Chiefs won their regular-season meeting.