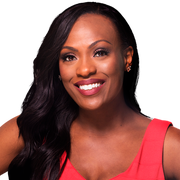 Brooke Thomas is a graduate of the University of Oklahoma's Gaylord College of Journalism and Mass Communications where she earned a Bachelor of Arts degree in journalism.
She began her broadcasting career as an intern on Access Hollywood in Los Angeles, which helped lead her to her first job as a reporter at WDAZ in Devil's Lake, North Dakota. From there, she proved to be a stand-out in morning news programming in several markets – including Memphis, Tennessee, Lubbock, and Dallas, Texas – before serving as the co-anchor of CBS 3's Eyewitness News This Morning and Eyewitness News at Noon in Philadelphia.
She has hosted a number of shows for the award-winning online news platform, The Young Turks. Most recently, she has anchored the daily national news program Fox Soul's Black Report on FOX's new streaming network dedicated to highlighting Black perspectives.
The latest from Brooke Thomas