Woman who went on racist rant at Torrance park identified; victims speak out
TORRANCE, Calif. - A woman who went on a pair of racist rants aimed at Asian-Americans at a Torrance park -- tirades that were caught on video and quickly went viral online -- was identified Friday as a Long Beach resident, and police asked for the public's help finding her.
Torrance police Chief Eve Berg said 56-year-old Lena Hernandez is the subject of two crime reports taken by officers this week following confrontations that occurred Wednesday at Wilson Park on Crenshaw Boulevard.
In the first case, Hernandez was caught on video verbally accosting a young woman exercising at the park.
RELATED: Racist rants caught on camera in Torrance, police investigating
"Go back to whatever (expletive) Asian country you belong in,'' the woman yelled. "... This is not your place. This is not your home. We do not want you here.''
On Thursday, an Asian man posted a video online showing him and his son being accosted and mocked by the same woman on the same day.
"You need to go home,'' the woman tells the man.
Berg said the same woman is suspected in an October incident, in which she allegedly verbally assaulted a custodian at Del Amo Mall in Torrance, then physically attacked a female bystander who tried to intervene.
"If there are any victims out there please call our dept and if you can help us identify this person and bring her into custody that would really be appreciated," Berg said.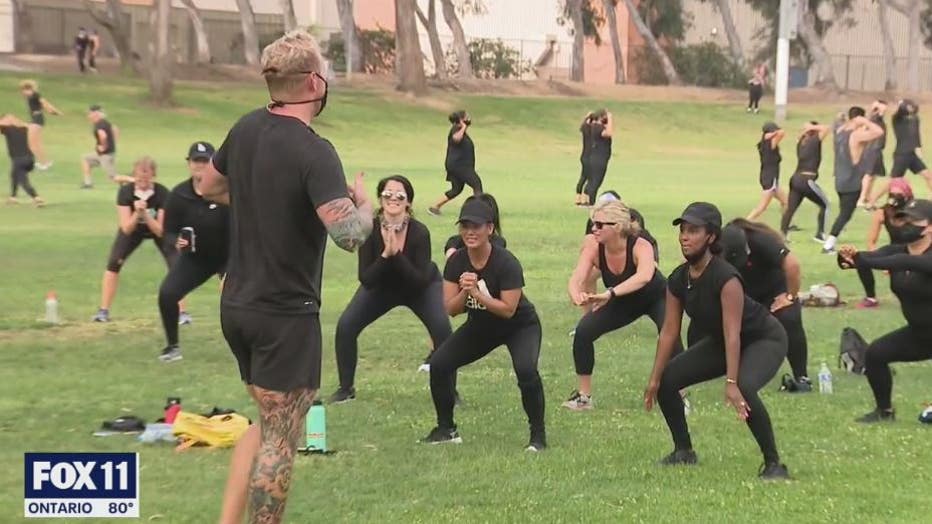 All three victims spoke to FOX 11's Sandra Endo during a show of solidarity against racism Friday morning.
"I hope she stopped. If she is mentally ill she gets the help she needs that's not an excuse. She needs to be off the streets," said Sherry, who is one victim.
"We will not be silent…It's important to be heard it's important for me as a dad," said another victim who didn't want to give out his name.
"After seeing the video I immediately grabbed my husband and said that's the lady that attacked me last year," stated Kayceelyn Salminao, another victim. 
Torrance Mayor Pat Furey says it's nauseating.
"We are a fully diverse community more than 80 communities spoken in Torrance 30-40% are Asian or Asian Pacific Islander," he said Friday.
State Assemblymember Al Muratsuchi says the coronavirus – some have called the "Chinese virus" has triggered a spike in Anti-Asian hate crimes and harassment.
"There is an organization Stop AAPI Hate – taking reports, taken over 1700 reports in last few months of attacks on Asian Americans and so I see this as part of that larger trend," Muratsuchi stated. 
Anyone who recognizes this woman or the license plate on her dark gray Honda CA – 8GMR818 – is urged to call Torrance detectives.
City News Service contributed to this report