WeHo Pride: Here's a full list of road closures
WEST HOLLYWOOD, Calif. - With a full weekend of WeHo Pride events scheduled, street closures are in effect in the West Hollywood area as the festivities get underway.
San Vicente Boulevard is closed from Melrose Avenue to Santa Monica Boulevard through 10 a.m. Monday.
West Hollywood Park has been closed since Monday to accommodate preparations for the weekend-long Pride event. The park is not expected to reopen until 7 p.m. Wednesday.
Parking facilities in the area -- the five-story parking structure, the Library Garage, Aquatic and Recreation Center Garage and the Plummer Park South and Robertson lots -- is closed until Monday.
The city will provide free shuttle service during the weekend to transport people to WeHo Pride events. Information is available online at https://go.wehopride.com/3qfnasc.
Other streets that will be closed for the event are:
-- Eastbound Santa Monica Boulevard will close from North La Cienega Boulevard to North Doheny Drive closed through 7 a.m. Monday;
-- Robertson Boulevard closed from Santa Monica Boulevard to Melrose Avenue through 7 a.m. Monday;
-- Westbound Santa Monica Boulevard close from North La Cienega Boulevard to North Doheny Drive through 7 a.m. Monday;
-- San Vicente Boulevard closed from Santa Monica Boulevard to Cynthia Street through 10 a.m. Monday; and
-- Santa Monica Boulevard closed from Fairfax Avenue to Doheny Drive -- including side streets one block north and one block south of Santa Monica Boulevard -- from 5 a.m. to 5 p.m. Sunday to accommodate the WeHo Pride Parade.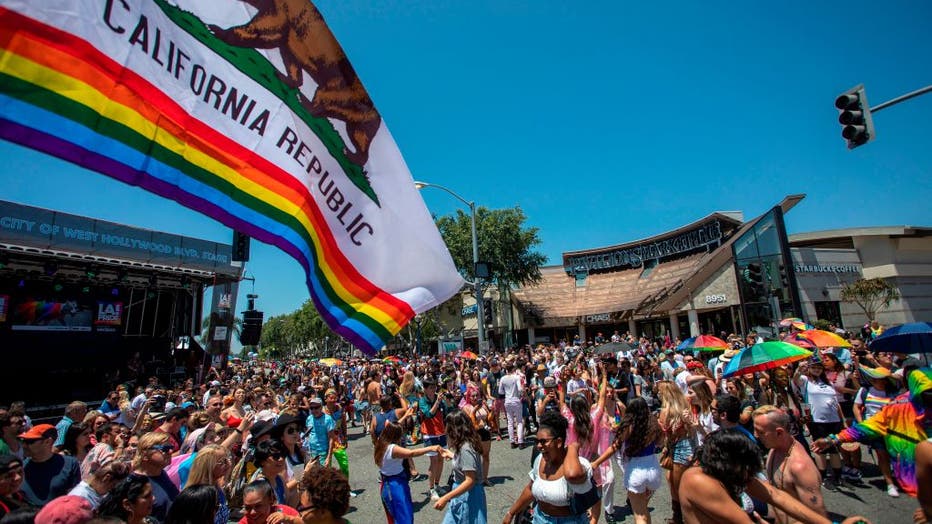 WeHo Pride events began Friday with "Friday Night @OUTLOUD," a concert at West Hollywood Park featuring Idina Menzel, Jessie Ware, Shangela and Tinashe. OUTLOUD concerts will continue over the weekend, with Grace Jones headlining on Saturday and Carly Rae Jepsen headlining Sunday.
The WeHo Pride Street Fair will run from noon to 10 p.m. Saturday and Sunday at Santa Monica and San Vicente boulevards, featuring an array of LGBTQ+ community groups and allied organizations.
RELATED: NOH8 Campaign spreads message of acceptance for 15 years and countin
Saturday's event will also include the Women's Freedom Festival, including performances from "emerging LGBTQ and BIPOC women and non-binary musicians, comedians, poets and activists." The festival will be followed at 6 p.m. by the annual Dyke March.
Sunday's event will be highlighted by the WeHo Pride Parade at noon. Honorees during the parade will be model/activist Laith Ashley, who will receive the Breakthrough Icon Award; actress Niecy Nash-Betts and wife Jessica Betts, who will receive the Trailblazer Icon honor; and actress Melissa McCarthy, who was named WeHo Pride's 2023 Ally Icon. "RuPaul's Drag Race" will celebrated as this year's Drag Icon, with show host/judge Michelle Visage expected to accept the honor on behalf of the program.
The parade along Santa Monica Boulevard will begin at Crescent Heights Boulevard and move west to Robertson Boulevard.