VP Harris returns to Oakland with focus on jobs, infrastructure and clean drinking water
OAKLAND, Calif. - Kamala Harris landed in Oakland on Monday, the first time making the trip back to her hometown since becoming vice president.
Harris spent about four hours in the Bay Area focused on building support for the administration's $2.3 trillion infrastructure, jobs and climate proposal.
After touching down in Oakland, Harris elbow bumped Congresswoman Barbara Lee, Sen. Alex Padilla and Lt. Gov. Eleni Kounalakis. 
Harris then headed straight to the upper San Leandro Water treatment plant in Oakland, run by the East Bay Municipal Utility District. She was given a tour, alongside Gov. Gavin Newsom.
SEE ALSO: White House rolls out Biden's infrastructure plan
There she talked about the importance of clean drinking water, equitable access to water and droughts. 
"Maybe because I'm a kid from California," Harris said. 
"We must understand the equities and inequities of distribution and access to clean water especially clean drinking water, and address it in a way that is about supporting what governments must do at a local at a state and federal level, understanding the opportunities here and this is a big part of the American Jobs Plan, which is the opportunity to not only build back up our infrastructure around water and water policy," she said. "Part of our reason for being here to advance is the issue of water equity, whether you're talking about Iowa, where I spent a lot of time, and places in the Midwest where people have wells in their backyard and sewage systems on their property. It is on their property it is there, but it is eroding and they don't have the resources to actually upgrade and make it safe."
Harris also spoke about the need for more union jobs and for lead pipes to be replaced to stop water contamination and the health effects of lead in water. 
"Let us replace 100% of our lead systems and lead pipes," said Harris.  "Let's upgrade them.  Why? Because drinking lead will kill our children, literally." 
Newsom expressed his support for the plan but some Congressional Democrats have raised concerns and lawmakers on the right are lining up in opposition.  Republicans say they support improvements to physical infrastructure, but believe this goes beyond those issues. They also oppose the corporate tax increase proposed to pay for it. 
After the tour, the vice president visited Red Door Catering in Oakland for a listening session with Padilla, Lee, Kounalakis and business owner Reign Free. 
Free's business received financial assistance from several community development financial institutions or community banks.
Harris spoke about the importance of the community banks and touted the impacts of the recently passed $1.9 trillion COVID relief bill.  Some funds were set aside for community banks to boost the reach of PPP loans, in order to provide assistance to the smallest small businesses, especially those that are owned by minorities and women.
"There's a certain connection with the folks, that is not about money," Harris said.  "It's about growing the community and the economy of the community." 
SEE ALSO: Biden taps VP Harris to lead response to border challenges
Harris flew back to Los Angeles for the night. She will head to Chicago Tuesday to talk about vaccine equity.
Meanwhile, her husband, Douglas Emhoff, was in Eugene, Oregon on Monday touring a vaccination site.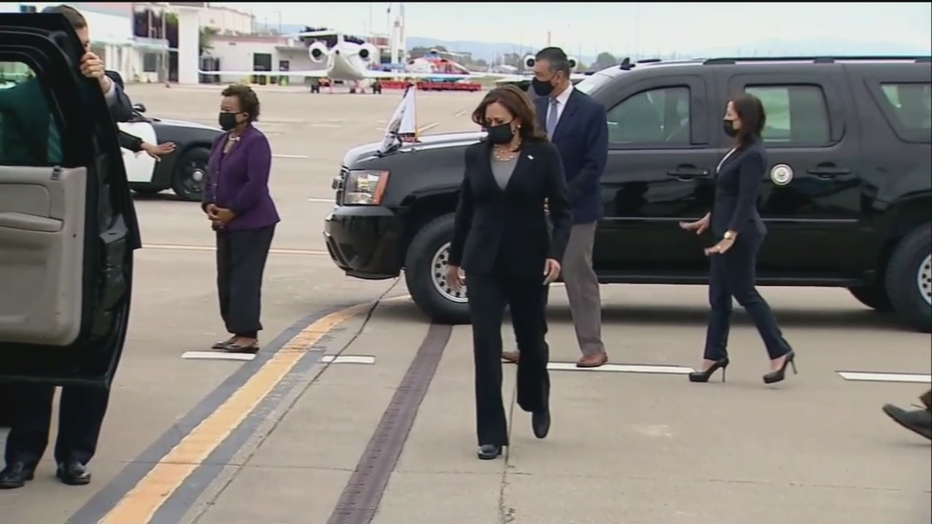 Vice President Kamala Harris lands at Oakland International Airport, her first visit to her hometown since being elected vice president. April 5, 2021