Tupac Shakur murder arrest: Who is Duane "Keffe D" Davis?
NEW YORK - After 27 years, a significant breakthrough has emerged in the infamous murder case of legendary rapper Tupac Shakur. 
The alleged orchestrator of the drive-by shooting that claimed Shakur's life, 60-year-old Crip gang leader Duane "Keffe D" Davis, has been indicted by a grand jury.
"For a long time, this community and worldwide have been wanting justice for Tupac," said Clark County Nevada District Attorney Steve Wolfson.
A breakthrough in the case came from Davis himself. Authorities say Davis started publicly boasting on social media and major platforms like Vlad TV about his role in the murder and even wrote a book, "Compton Street Legend."
"He seemed to think he had some type of immunity but that was not the case, so he essentially talked himself right into jail. I think Las Vegas Police Department was just allowing him to go out there and essentially hang himself with all of these confessions," says retired LAPD detective Greg Kading.
According to prosecutors, Davis is alleged to have purchased the firearm used by his now-deceased nephew Orlando Anderson, who is believed to have pulled the trigger.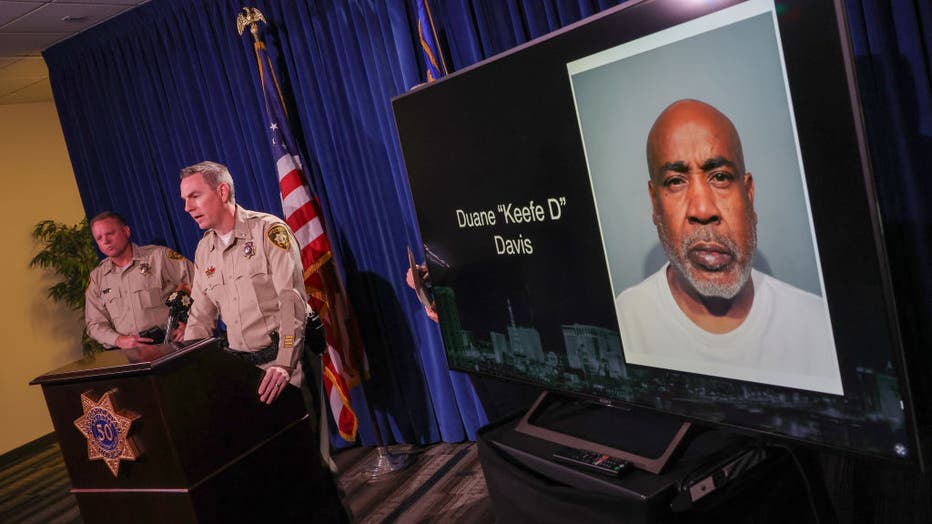 LAS VEGAS, NEVADA - SEPTEMBER 29: A booking photo of Duane "Keefe D" Davis is shown on a television monitor as Clark County Sheriff Kevin McMahill (L) and Las Vegas Metropolitan Police Department Lt. Jason Johansson speak during a news conference at
Kading told FOX 5 NY that Davis' self-incriminating statements, often referred to as "self-snitching," provided the impetus needed to move forward with the case.
Kading explained, "The only thing that makes sense to me is that they were allowing him to continue, just giving him more rope to hang himself with until it got to the point where they knew they could secure a prosecution."
Tupac Shakur's legacy as a hip-hop icon has remained unassailable, but the mystery surrounding his untimely demise at the age of 25 has bothered his devoted fan base for years.
"Some people are just straight up celebrating. They're happy for closure, they're happy to feel like they feel. Others are frustrated because it's like tearing a scab off a wound. Others are looking at the suspect Keffe D like, 'You're an idiot,'" said Chuck Creekmur, CEO of allhiphop.com.
Davis will be brought before a judge on Wednesday to be arraigned on the charge of murder with a deadly weapon. The grand jury also added a sentencing enhancement of 20 years for gang activity.