WeHo Pride weekend wraps up with Pride Parade
WEST HOLLYWOOD, Calif. - WeHo Pride weekend wrapped up Sunday with a noontime parade through the streets of West Hollywood.
The event included a presentation of honors for Pride icons and allies.
Those honorees were model/activist Laith Ashley, who received the Breakthrough Icon Award; actress Niecy Nash-Betts and wife Jessica Betts, who received the Trailblazer Icon honor; and actress Melissa McCarthy, who was named WeHo Pride's 2023 Ally Icon. "RuPaul's Drag Race" was celebrated as this year's Drag Icon.
"Our WeHo Pride Parade Icons embody queer joy and fierce allyship by creating spaces where our community can be celebrated, whether that's on the red carpet or directly through their art and advocacy," West Hollywood Mayor Sepi Shyne said in a statement. "We're thrilled to celebrate the impact our Icons have in creating a more evolved and accepting world."
Tens of thousands of people showed up Saturday for the annual WeHo Pride festival, billed as one of the largest celebrations of LGBTQ+ pride in the world, but two attendees wound up behind bars.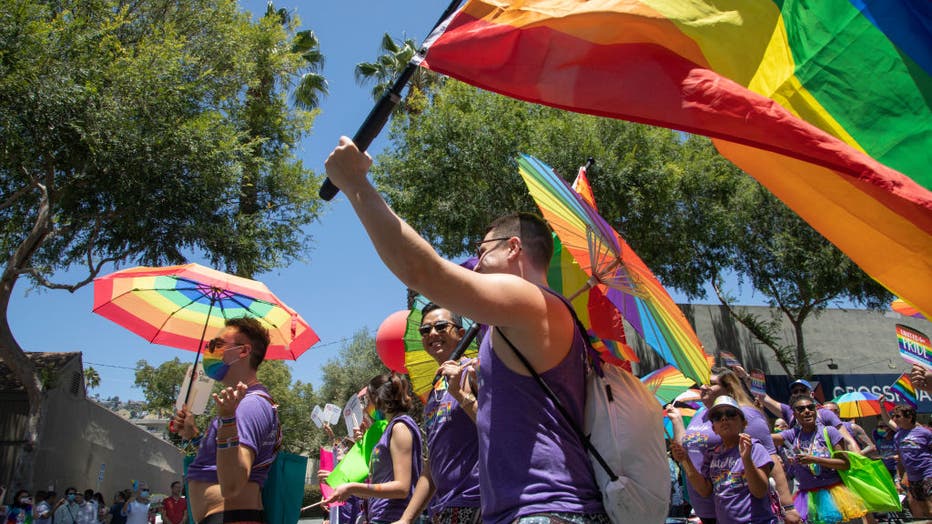 The inaugural West Hollywood Pride parade took place on Sunday, June 5, 2022 on Santa Monica Boulevard in West Hollywood, CA. (Myung J. Chun / Los Angeles Times via Getty Images)
Hunter Lee Darling was identified as the suspect in a cell phone robbery April 19 at the West Hollywood library. An arrest warrant was issued for Darling on May 31, according to the Sheriff's Information Bureau.
Deputies spotted Darling at a Saturday Pride event, arrested him and booked him for suspicion of robbery, vandalism and battery, sheriff's officials said. A friend of Darling, Abby Nicole Thomas, was arrested for allegedly interfering and obstructing an arrest after attempting to keep deputies from taking Darling into custody.
Video circulating on social media from the Saturday's Pride events showed Los Angeles County Sheriff's deputies wrestling two people to the ground while placing them under arrest, but it was unclear whether the footage came from the arrests of Darling and Thomas or two other people.
The WeHo Pride Street Fair ran from noon to 10 p.m. through Sunday at Santa Monica and San Vicente boulevards, featuring an array of LGBTQ+ community groups and allied organizations.
WeHo Pride weekend officially began Friday with a "Friday Night @OUTLOUD" concert at West Hollywood Park featuring Idina Menzel, Jessie Ware, Shangela and Tinashe.
OUTLOUD concerts continued through the weekend. Grace Jones headlined Saturday night's concert and Carly Rae Jepsen headlined Sunday night.
Saturday's event included the Women's Freedom Festival, with performances from "emerging LGBTQ and BIPOC women and non-binary musicians, comedians, poets and activists." The festival was followed at 6 p.m. by the annual Dyke March.
Sunday's parade along Santa Monica Boulevard began at Crescent Heights Boulevard and move west to Robertson Boulevard.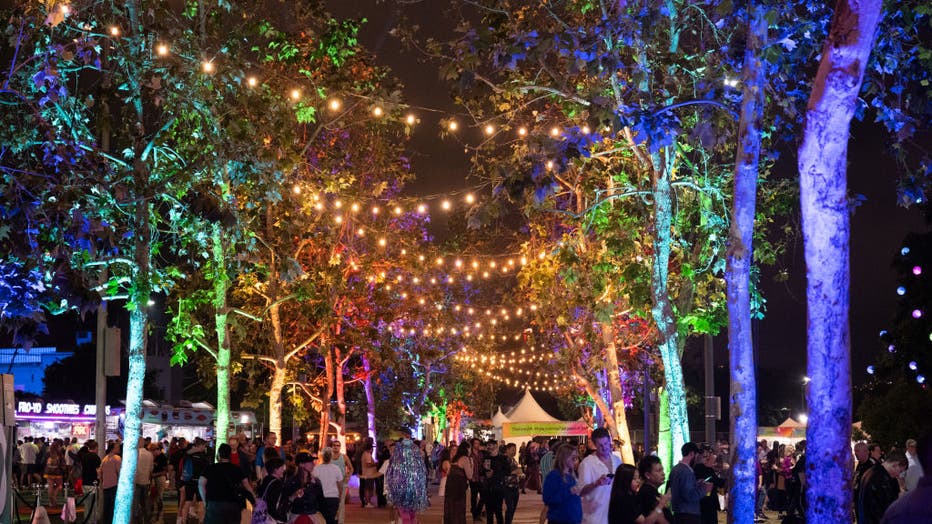 A view of atmosphere during Outloud at WeHo Pride 2023 at West Hollywood Park on June 03, 2023 in West Hollywood, California. (Photo by Scott Dudelson/Getty Images)