Taco-hungry California couple wins $1 million with lottery scratcher
LOS ANGELES - A California couple went out for tacos and returned home millionaires!
That's the case for Tim Dynes and his wife, who went to their favorite taco truck in Patterson, Stanislaus County to satisfy a taco craving. 
Dynes told lottery officials he always walks across the street to G's Food Mart to buy some California Lottery scratchers so he and his wife have something to do while waiting for their order. 
Dynes said he scratched the lucky Diamond 8's ticket to reveal the number 17 and in bold numbers - $1 million.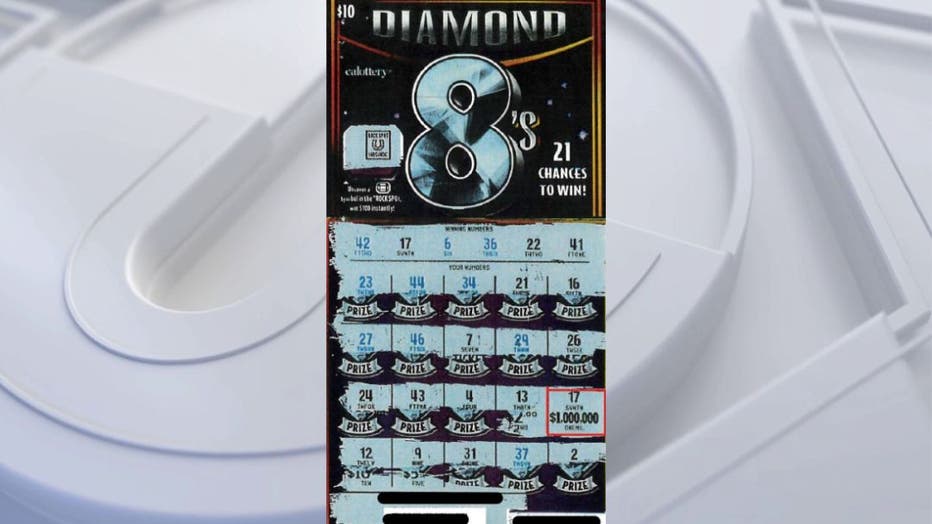 Actual winning lottery scratcher ticket. / Photo courtesy California Lottery
Dynes was thrilled, but he said he kept his composure and waited until their food was ready to break the news to his wife.
 "Do you know how hard it was to keep a straight face? Nobody knew I won – not even my wife until I told her on the drive home," he said. 
The owner of G's Food Mart also earned a $5,000 bonus for selling Dynes that lucky ticket.
A lucky few others also scored big with some winning lottery scratchers.
SUGGESTED:
Janie Torres won $1 million with a $1,000,000 scratchers ticket she bought at Village Liquor and More in Stockton. 
Wendy Ake Bautista also won $1 million after winning the top prize on an Xtreme Multiplier scratcher purchased at Los Primos Gift Shop in San Francisco. 
Carl Phillips also joins the millionaire club after winning the top prize playing a Diamond 8's scratcher he bought at Fast & Easy Mart in Livermore. 
Lastly, Ivan Gonzalez Gamboa won $1 million playing a Cloud 9 scratchers ticket he bought at SBC Liquors in Fremont, Alameda County. 
Congrats to all the lucky millionaires!