SuperMotocross World Championship Finals happening Saturday in LA
LOS ANGELES - The SuperMotocross World Championship Finals will be held in Los Angeles on Saturday, September 23 at the Los Angeles Memorial Coliseum.
The championship is part of the historic venue's "Coliseum Forever" celebration, which honors the centennial anniversary of the Coliseum this year. The Los Angeles Memorial Coliseum played an iconic role in both Supercross and Motocross history by hosting the first-ever "Superbowl of Motocross" race on July 8, 1972, marking the birth of Supercross and making the Coliseum a perfect choice for hosting the inaugural SuperMotocross World Championship Final in 2023.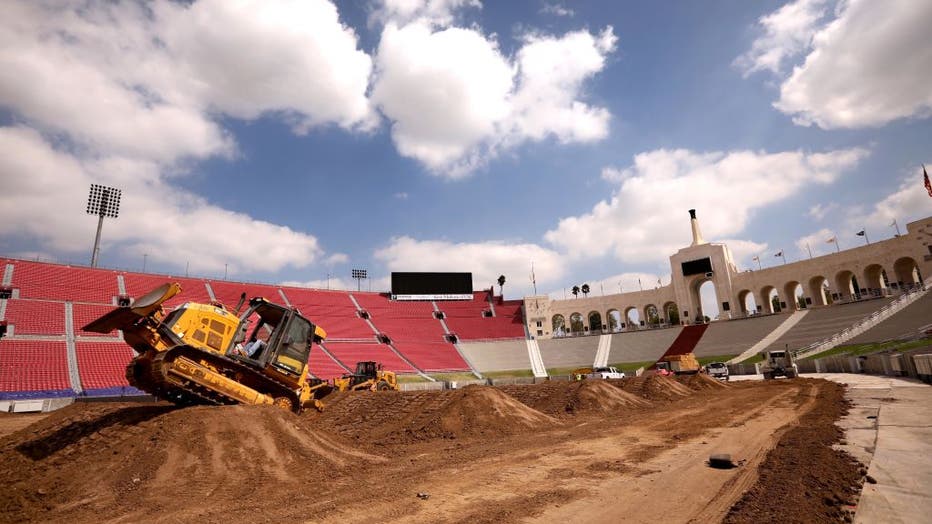 A bulldozer smoothes out hills that will make up the track for Saturday's inaugural SuperMotocross World Championship Finals race in Los Angeles on September 18, 2023. (Genaro Molina / Los Angeles Times via Getty Images)
Over 750 truckloads of dirt, totaling 10,000 yards, began the process of dumping their load onto the floor of the Los Angeles Memorial Coliseum to create the massive mile-long man-made track in preparation for the race.
More information on the Los Angeles SMX local race event and ticket information, click here.