SpaceX launches rocket with satellites from Vandenberg AFB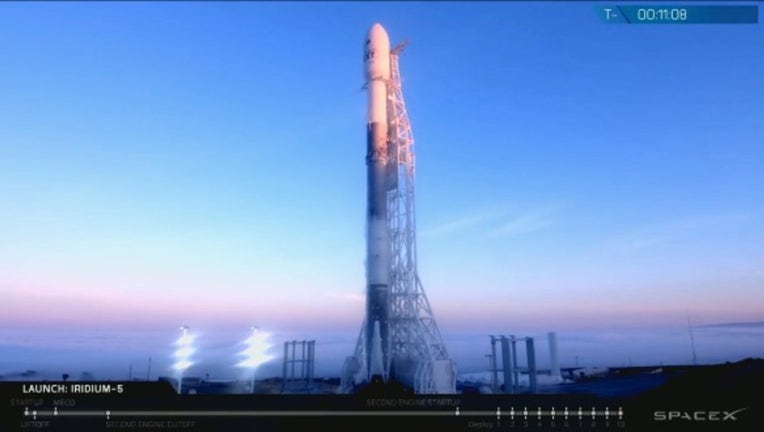 article
HAWTHORNE, Calif. (FOX 11/ CNS) - Morning commuters in Los Angeles could be treated to an aerial spectacle Friday when Hawthorne-based SpaceX tries to launch a series of communications satellites into orbit from Vandenberg Air Force Base northwest of LA.
The Iridium-5 NEXT Mission is scheduled to launch at 7:13 a.m. A SpaceX Falcon 9 rocket will carry 10 satellites into orbit.
WATCH LIVE VIDEO OF LAUNCH HERE:
The satellites are part of an ultimate 75-satellite array being positioned for Iridium's ``next-generation'' communications system. Friday's mission is the fifth set of 10 satellites being launched for the project.
All of the satellites are expected to be positioned in orbit by the middle of the year.
The Falcon 9 rocket being used for the launch was previously used in October for an Iridium satellite mission, and it was successfully recovered for re-use. According to SpaceX, the company will not attempt to recover the rocket after today's planned launch.
It is, however, expected to try to recover the rocket's ``fairing,'' or nosecone, using a large ship dubbed Mr. Steven, which is outfitted with a large netting. The company attempted such a recovery during a February launch, but the fairing missed the net by ``a few hundred meters.'' The fairing did land intact in the ocean, thanks to parachutes that slowed its descent.
SpaceX has been working to perfect the process of recovering rockets to reduce the cost of space missions.
Today's planned launch is the first of two planned by SpaceX in the next four days. The company is scheduled to launch a cargo mission to the International Space Station at 1:30 p.m. Monday from Cape Canaveral.
Copyright 2018 FOX 11 Los Angeles: Download our mobile app for breaking news alerts or to watch FOX 11 News | Follow us on Facebook, Twitter, Instagram and YouTube.