2 arrests made in deadly South LA street racing hit-and-run crash
LOS ANGELES - Investigators with the Los Angeles Police Department have been working meticulously to bring justice to the family of Anna Michelle Solis who was hit and killed during a street racing crash in South Los Angeles weeks ago. 
On Thursday, department officials announced the two suspects were arrested and charged with murder in the case. 
The 20-year-old was living her dream and even sang in her own band. She was going to college to pursue a degree in psychology. On the evening of July 21, her life was cut short when she was walking from a recording studio near the University of Southern California. Authorities said she was hit by a Jaguar driven by a man police say was street racing with his teenage friend driving a Dodge Challenger.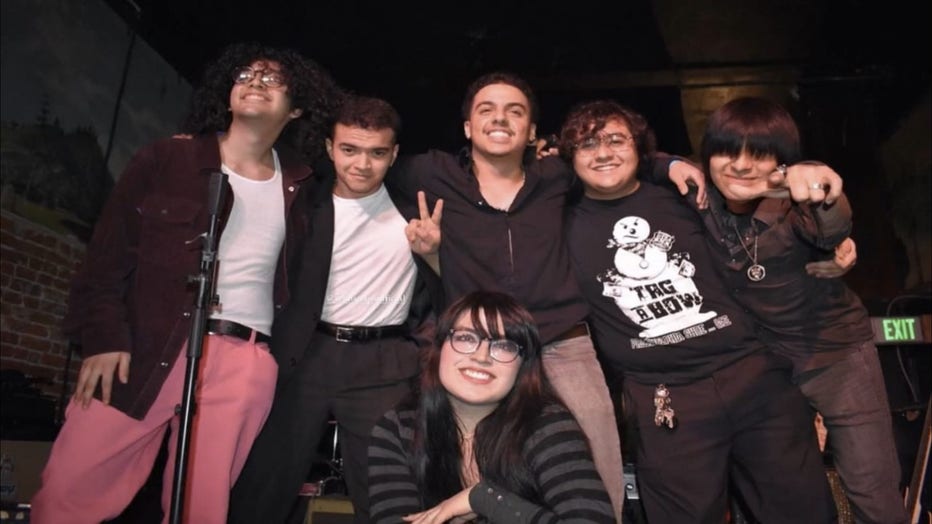 Anna Solis with fellow band members.
Investigators believe she may have been struck by both vehicles. Neither driver stopped to help and left the scene. 
"These cars were going incredibly fast to the point where oftentimes when we do canvass for videos…they're a blur in our videos," said LAPD Det. Daniel Ramirez. 
The suspects were identified by the LAPD as 25-year-old Javorrie Murphy and 19-year-old Deven Wagner. Both suspects are now behind bars after a nearly three-week investigation that had detectives tracing car parts and looking for surveillance video.
Murphy, a resident of Palmdale, was arrested on Aug.3, and officials said he was driving the Jaguar. Wagner, a resident of Los Angeles, was arrested on Aug. 4
Anna's family was too emotional to speak when the LAPD announced the arrests Thursday and had just buried their little girl the day before. 
Bail for Murphy was set at just over $2 million.
The two suspects are due in court Sept. 1.
Police asked anyone with information about the case to call Central Traffic Division detectives at 213-833-3713, or 877-LAPD-247. Tipsters may also call Crime Stoppers at 800-222-TIPS, or use the website, www.lacrimestoppers.org.