Smoke Advisory issued for Los Angeles, Riverside counties as multiple fires rage on
The South Coast Air Quality Management District issued a Smoke Advisory in effect at least through Saturday morning for Los Angeles County and Riverside County after a series of wildfires erupted in the region.
Visit www.aqmd.gov/aqimap to check current air quality conditions.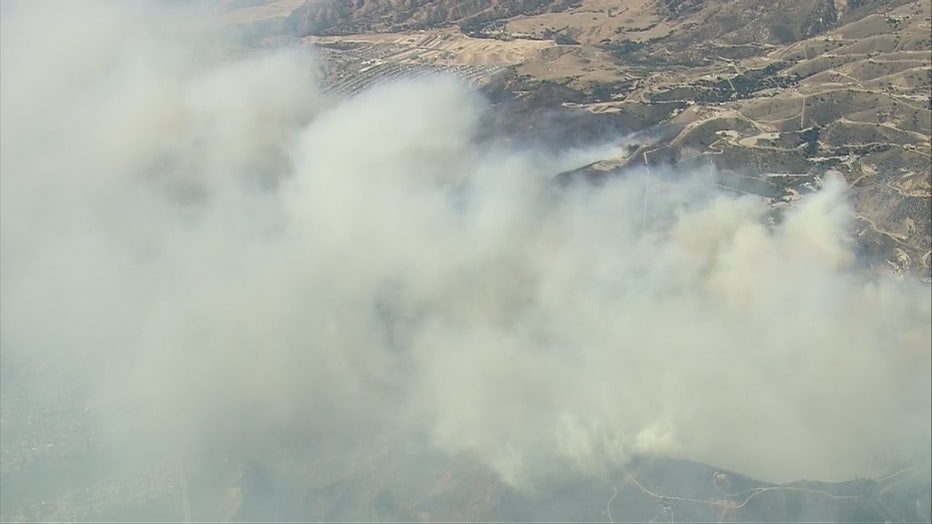 LOS ANGELES COUNTY
The Saddleridge Fire burning in the San Fernando Valley has produced a visible smoke with little plume rise that is currently blowing southwest to the ocean, the Air Quality Management District said. Officials say high levels of PM2.5 concentrations have been detected in parts of the San Fernando Valley, Topanga, Malibu, and Reseda where concentrations there have resulted in unhealthy air quality.
Of the fire continues to generate smoke Friday evening into Saturday morning, officials say smoke will impact portions of the San Fernando Valley, Calabasas, and Malibu that will result in unhealthy air quality there.
RELATED: One confirmed fatality as Saddleridge fire tears path of destruction across the northern San Fernando Valley
RIVERSIDE COUNTY
Officials say satellite imagery Friday morning revealed smoke production from the Sandalwood Fire, Reche Fire, and Wolf Fire were minimal but point out that a couple of low-cost sensors detected elevated concentrations suggesting any smoke impacts are localized.
With wind still being a concern, the South Coast Air Quality Management District says there is a potential for unhealthy air quality, especially for sensitive groups, if the fires continue to generate smoke on Friday evening through Saturday morning. If this occurs, portions of the Inland Empire in Riverside and San Bernardino counties will be impacted.
RELATED: One dead, several structures destroyed as 'Sandalwood' fire burns 842 acres in Calimesa
RELATED: Shooting determined as cause of 75-acre Wolf Fire burning in Riverside County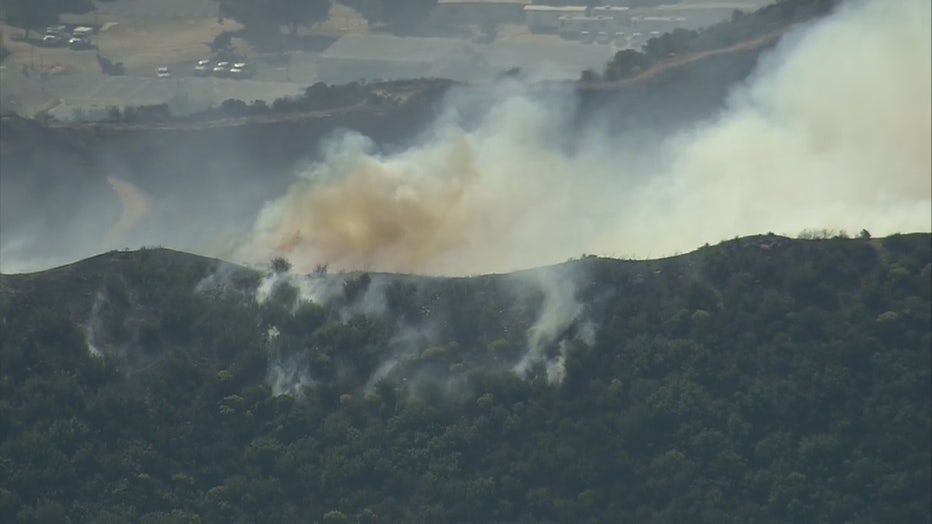 Areas of direct impacts and poor air quality may include portions of:
• Los Angeles County: Northwest Coastal L.A. County, West San Fernando Valley, East San Fernando Valley, Santa Clarita Valley, San Gabriel Mountains 
• Riverside County: Metropolitan Riverside County, Perris Valley, Hemet-San Jacinto Valley, San Gorgonio Pass 
• San Bernardino County: Central San Bernardino Valley, East San Bernardino Valley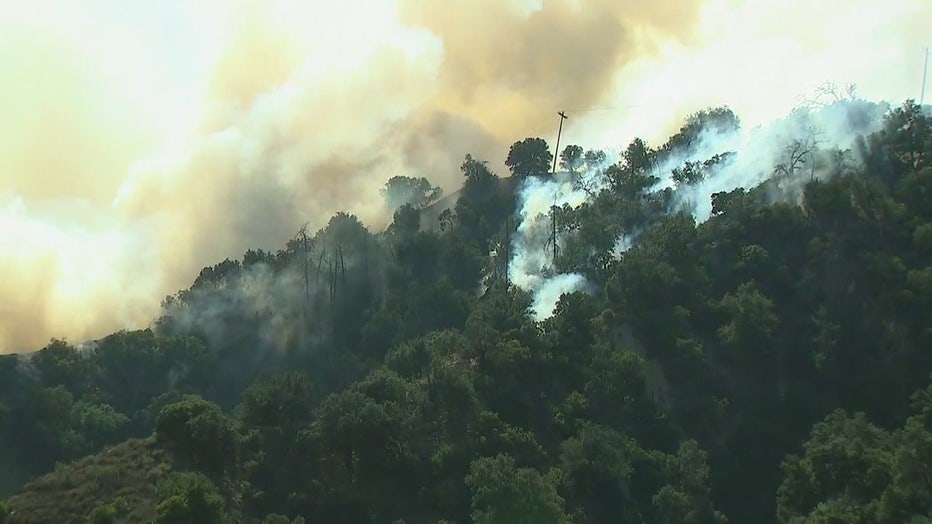 Health officials advise that if you smell smoke or see ash due to a wildfire:
• Remain indoors with windows and doors closed or seek alternate shelter;
• Avoid vigorous physical activity
• Run your air conditioner if you have one. Make sure it has a clean filter and that it is recirculating the indoor air to prevent bringing additional smoke inside;
• Avoid using a whole-house fan or a swamp cooler with an outside air intake;
• Avoid using indoor or outdoor wood-burning appliances, including fireplaces and candles.
For wildfire, smoke and ash health and safety tips, visit https://www.aqmd.gov/home/air-quality/wildfire-health-info-smoke-tips
--------------
South Coast AQMD Advisory updates can be found at: http://www.aqmd.gov/advisory
To subscribe to air quality alerts, advisories and forecasts by email, go to http://AirAlerts.org
Air quality forecasts are available at http://www.aqmd.gov/forecast.