Schools announce modified schedules, closures due to potential power outages
LOS ANGELES - Several schools in high-risk fire areas announced minimum day schedules and complete closures Thursday due to potential power outages while a Red Flag Warning was in effect.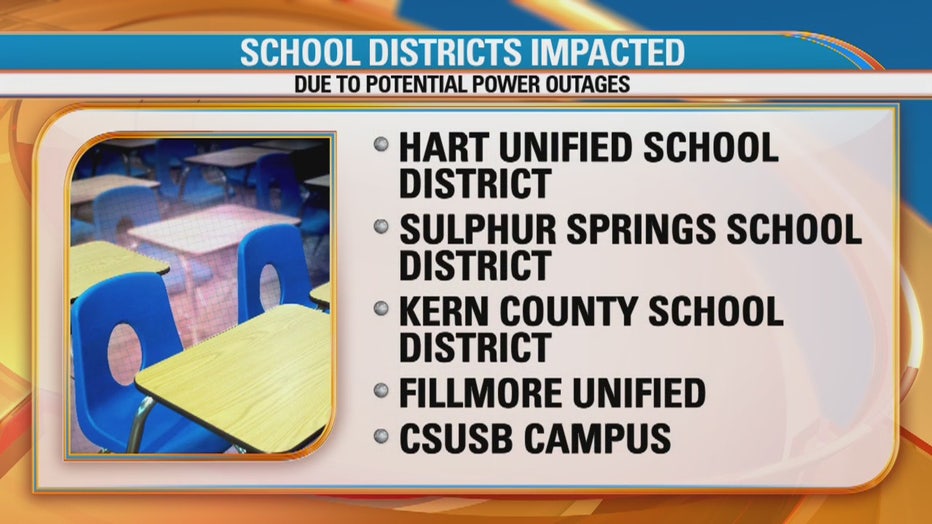 A Red Flag Warning went into effect at 3 a.m. Thursday and remains in effect through 6 p.m. Friday. 
RELATED: Majority of Southland placed under Red Flag Warning with anticipated spike of Santa Ana winds
SoCal Edison warned residents of a potential public safety power shutoff that would essentially disconnect power lines that could be damaged in high winds, fall, and spark a fire. The electricity supply company also warned those with medical needs who are dependent on electricity to consider staying somewhere else until conditions change. 
RELATED: Potential SoCal power shutoffs could impact over 173,000 residents as heavy winds expected
"I would rather that they turned it off honestly because we were a victim of the fire last year and perhaps that would've saved us all and saved our home," a resident told FOX 11. 
California State University San Bernadino announced classes would be closed and business operations were suspended. The Palm Desert campus would remain open, the college announced in a tweet. 
The following schools are also impacted by the Red Flag Warning: 
Hart Unified School District
Canyon High School 
Golden Valley High 
Hart@Home 
La Mesa Junior High School
Sequoia School
Sierra Vista Junior High School
Sulphur Springs Union School District
Canyon Springs (11:45 a.m. dismissal)
Fair Oaks Ranch (12:45 p.m. dismissal)
Golden Oak (12:15 p.m. dismissal)
Leona Cox (11:45 a.m. dismissal)
Mint Canyon (12:15 p.m. dismissal)
Mitchell (12:15 p.m. dismissal)
Pinetree (11:45 a.m. dismissal)
Sulphur Springs (12:45 p.m. dismissal)
Valley View (12:45 p.m. dismissal) 
Kern County School District
Stockdale High School
North High School
Both schools would start two hours late, the district announced. Parents would be notified by 8 a.m. if classes would be canceled for the day.
Fillmore Unified School District 
All schools and offices would be closed on Thursday and Friday. All school events, activities, athletic competitions were also canceled until further notice. "The safety and security of students and staff is our highest priority," the district said.