Santa Monica crash ends in shooting; 2 arrested
SANTA MONICA, Calif. - Two men were arrested Tuesday after a crash in Santa Monica ended with one driver shooting at another, according to police.
Santa Monica police officers were flagged down by people saying shots had been fired near the intersection of 6th Street and Broadway around 3:45 p.m. Officers then found two cars - a van and SUV -  that had been involved in a collision.
SUGGESTED: Mother, unborn baby killed in head-on crash by alleged DUI driver in Hesperia
Authorities said the driver of the SUV, 43-year-old Emilio Reyes of Los Angeles, appeared to have a gunshot wound to his upper arm. 
An investigation revealed the driver of the van, 52-year-old Manuel Jaramillo-Heredia of Inglewood, fired several shots at Reyes, and Reyes then purposely rammed his SUV into Jaramillo's van twice while he was still inside. 
Police said Reyes and Jaramillo know each other and were arguing before the shooting.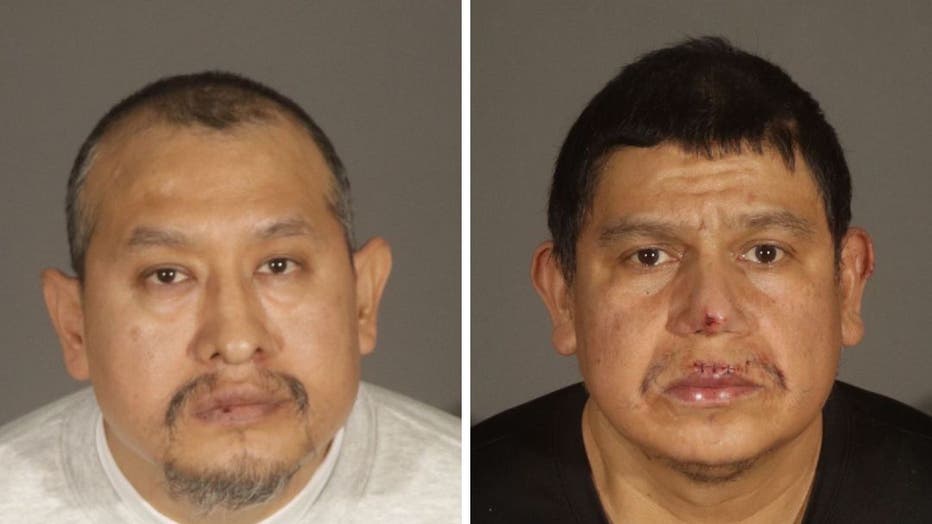 Emilio Reyes (left) and Manuel Jaramillo-Heredia (right) / Santa Monica PD
Reyes was taken to a local hospital for treatment of a non-life threatening injury and was discharged. 
The handgun used was also recovered and both vehicles were towed, authorities said.
There are no outstanding suspects. 
Both Heredia and Jaramillo were booked for attempted murder.
Anyone with any additional information is asked to contact SMPD Detective George Burciaga at 310-458- 8932 or the Watch Commander (24 hours) at 310-458-8426.