Santa Anita Park unveils plan to upgrade, expand park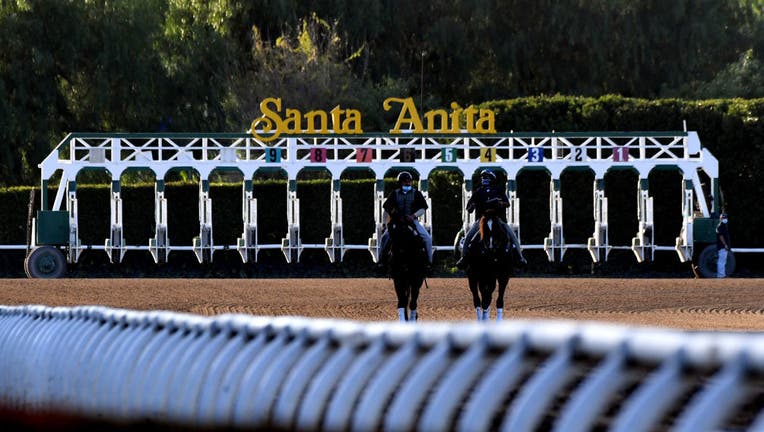 article
ARCADIA, Calif. - The owners of Santa Anita Park have announced details of their plan to facilitate the closing of Northern California's Golden Gate Fields racetrack and the expansion of racing at Santa Anita.
Earlier this month, The Stronach Group announced that it was closing the Bay Area track at the end of the 2023 meet and transferring its horses to Southern California, resulting in increased field sizes and an additional day of racing at Santa Anita Park.
Details of the plan unveiled Friday include:
Over $1 million to support the relocation of horses, trainers, jockeys, backstretch employees and caregivers from Golden Gate Fields to Santa Anita Park as part of the consolidation of racing in Southern California, and to support the California breeding program.
A new $4.5 million, all-weather synthetic track that will replace the existing training track at Santa Anita Park.
A commitment to fund a portion of 2024 heath care premiums for Golden Gate Field employees.
The creation of a job board accessible to backside employees to support the transition to Santa Anita Park.
An investment of at least $500,000 over two years toward building a "state-of-the-art equine pool for hydrotherapy and horse exerciser, accessible to trainers at Santa Anita Park, that will help horses more easily recover from injury."
$23.2 million toward a backside barn improvement program.
In addition to returning a fourth day of weekly racing to Santa Anita resulting in 26 extra race days, officials will invest $2.5 million into building a turf chute at the track.
"The new turf chute will benefit the consolidated ecosystem of owners, breeders and trainers via the creation of new races suitable for the entire horseracing population and will provide increased racing and earnings opportunities. Further resources will be committed to encourage and ease the transition of Northern California based horses and connections," the company said.
"We are confident that this comprehensive package of important measures will not only bolster the racing, training, owner and fan experience at Santa Anita Park ... but also support Northern California stakeholders through a challenging transition period, and lead the way with state and industrywide changes that will result in a healthier, competitive and sustainable future for thoroughbred racing in Southern California," Stronach Group Chairwoman, CEO and President Belinda Stronach said in a statement Friday.
SUGGESTED: Horse collapses, dies during race at Santa Anita
The company said earlier this month that the move would also increase activity at San Luis Rey Downs, a private training track it owns in Bonsall, in San Diego County.
"The Stronach Group remains steadfastly committed to racing in California," Belinda Stronach said. "We believe that the future success of racing depends on a business model that encourages investment in Southern California, one of North America's premier racing circuits.
"Focusing on Santa Anita Park and San Luis Rey Downs as state-of-the- art racing and training facilities that offer enhanced program quality, increased race days, expanded wagering opportunities, and premier hospitality and entertainment experiences is vital to ensuring that California racing can continue to compete and thrive on a national level."
Company officials said then that they would be working in cooperation with industry participants including the California Horse Racing Board, Thoroughbred Owners of California, California Thoroughbred Trainers, and Del Mar and Los Alamitos racetracks to develop their plan to relocate horses and employees to Southern California.
"While we continue to work diligently on what the north might look like in 2024, today's announcement answers important short-term questions about the future of California racing and Santa Anita Park," Bill Nader, president and CEO of the Thoroughbred Owners of California, said Friday. "This represents both an investment and a commitment by Belinda Stronach and her team to not only stabilize but likely improve California racing for stakeholders, horsemen/women, backstretch workers and the betting public. These initiatives will provide a much better environment for our horses and make our overall racing stronger for the immediate future."
CHRB Vice Chair Oscar Gonzales, who chairs the CHRB Race Dates Committee, said he hoped the upcoming CHRB meeting on Aug. 17 and Race Dates Committee meeting on Aug. 16 — both in Del Mar — will "be an opportunity to share more information with the public."
Meanwhile, animal rights activists who frequently protest at the Arcadia track calling for a ban on the sport were planning another demonstration on Saturday. The latest protest was being led by DxE, Kill Racing Not Horses and Animal Defenders International.
The activists have pointed to the high number of horses who die annually from racing or training injuries. Stronach and CHRB officials say they've undertaken increased safety measures in recent years to bring those totals down.
Eleven horses have died from racing or training injuries at Santa Anita in 2023. In 2022, the total was 12 for the year. In 2021, it was 19.