San Bernardino Co. crews working around the clock as conditions remain dire for trapped residents
SAN BERNARDINO COUNTY, Calif. - Officials in San Bernardino County Friday provided an update on storm cleanup efforts as people remain stranded in the mountain communities without access to food or other necessary supplies.
RELATED: 'We need help': Stranded Lake Arrowhead residents plead for assistance amid food and medication shortages
On Thursday, FOX 11 caught up with residents in Lake Arrowhead who have been trapped for days with little to no help in sight following a series of storms that brought heavy snowfall to the San Bernardino Mountains.
"We're here for you. We're going to dig you out, and we are coming," San Bernardino Sheriff Shannon Dicus said directly to Lake Arrowhead residents during Friday morning's press conference.
"Our hearts and prayers go out to all our communities that are affected by the disaster," added Leonard X. Hernandez, the county's Chief Executive Officer.
The latest data from the National Weather Service said the 7-day total of snowfall in Big Bear was 81 inches and up to 150 inches in the higher elevations.  
SUGGESTED: Residents, running out of food, needing help in snow-covered San Bernardino County mountain community
"The enormity of this event is hard to comprehend," said Assemblymember Tom Lackey. "But we had an inundation that has really, really generated a severe amount of anxiety, frustration and difficulty."
Leaders of several local agencies said they have staff working around the clock and asked residents to stay patient and that help is on the way.
Sheriff Dicus said he's working with the county's fire department in rescue efforts, noting they've had a total of 1,200 calls for service, which includes the following:
Big Bear: 295 calls for service, 15 deputy reports
Lytle Creek and Mt. Baldy: 24 calls, 2 deputy reports
Twin Peaks: 786 calls for service, 12 deputy reports
Wrightwood: 24 calls of service, 2 deputy reports
Sheriff Dicus said the calls of service include information calls, welfare checks, assisting with search and rescue efforts, and non-injury traffic accidents.
He added several convoys have been deployed in the Big Bear area with food and supplies to local grocery stores. 
San Bernardino County Fire Chief Dan Munsey said eight snowcats have been deployed and that has been the most effective means of transportation for first responders.
In the last 48 hours, they've had five fires they believe were the result of natural gas leaks.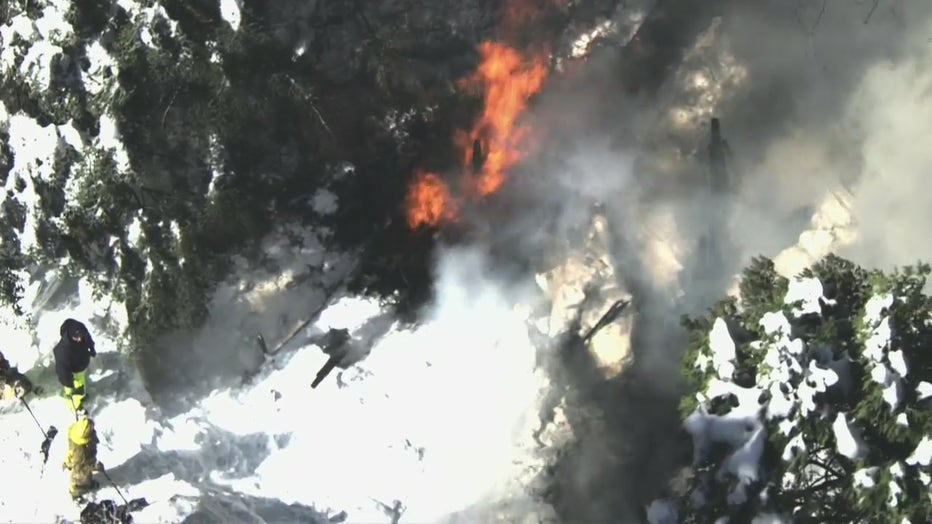 Looking ahead for when the snow begins to melt
Fire Chief Munsey said while they are working around the clock in the present, they are also looking ahead. As temperatures start to climb, they are planning for potential flooding from the snowmelt and assessing for avalanches.
How are the roadways looking?
Several roadways were closed during the storm, which also contributed to families being trapped.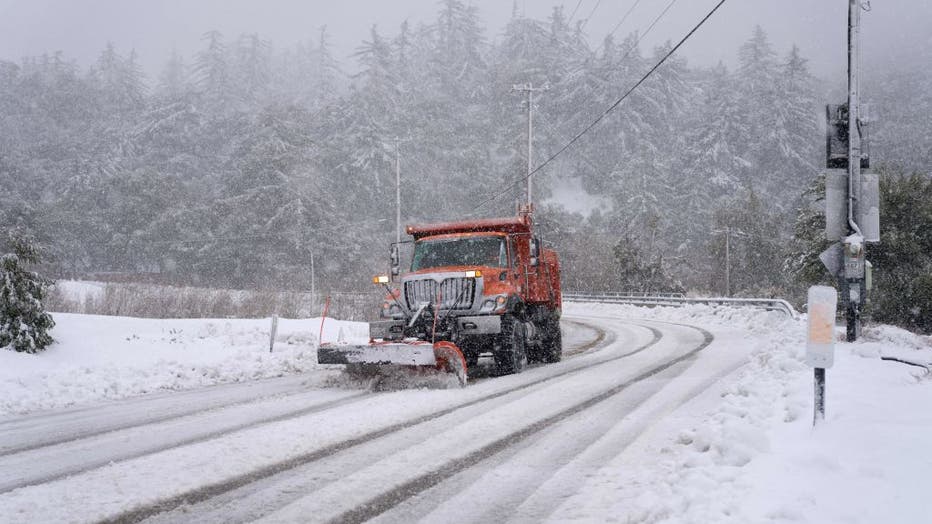 A plow clears snow on Mount Baldy Road in the town of Mount Baldy, California.(Photo by Allison Dinner / AFP) (Photo by ALLISON DINNER/AFP via Getty Images) (Getty Images)
Jim Rodgers, Caltrans District 8 Director of Maintenance, said his crews along with hired contractors have removed 2.6 million cubic yards of snow, and they have a rotating staff working around the clock.
Brandon Biggs, the Director of Public Works, said they have made progress over the last couple of days, but there is still a lot of work to do.
According to Biggs, Wrightwood, Mt. Baldly, Lytle Creek, Angelus Oaks, Forest Falls, Oak Glen and Big Bear have 100% passable roads.
Primary roads in Crestline are 100% passable and about 10% of the secondary roadways.
When it comes to the higher elevations, Biggs said it'll take longer, saying Lake Arrowhead, Running Springs, Green Valley Lake, Arrrobear, and Cedarpines Park were hit with more snow and 10% of the roads are currently passable.
Meanwhile, Highway 18 into the mountain communities is closed, even to residents. CHP officials say the 8-foot wide trenches, being dug along the main routes, have to be kept open for emergency crews and deliveries to markets and gas stations. 
Who to call for help
San Bernardino County District Supervisor asked residents who have food and water to remain sheltered in place and those running low on supplies should call 909-387-3911. However, those with life-threatening situations are asked to call 911.
San Bernardino County Sheriff's Officials are delivering food to those who don't need to be evacuated immediately. The National Guard has also been deployed.