Road rage incident on 210 Freeway leads to shooting in Fontana, four arrested
FONTANA, Calif. - Four people were arrested after a road rage incident led to a shooting in Fontana Thursday.
Police said the incident started on the 210 freeway between a black pickup truck and a silver Audi. The two vehicles were heading west on the 210 Freeway around 9:30 a.m. when they exited Cherry Ave. then crashed into each other near Hemlock and Walnut avenues. 
At that time, police say a third vehicle, a black Mustang allegedly driven by a friend of the Audi driver, arrived at the scene. Someone in the Mustang started smashing the windows of the pickup truck with a baseball bat; the driver of the truck then opened fire, police said. 
"Our officers got here immediately and picked up black Mustang and silver Audi that were leaving the area. Those vehicles refused to stop and led our officers into a pursuit that ended at Kaiser Hospital," said Sgt. Daniel Romero with the Fontana Police Dept. 
A passenger in the Mustang sustained a gunshot wound to the upper body and was hospitalized in critical condition.
Police say four people, three men and one woman, were arrested. Two have been charged with assault with a deadly weapon. 
The incident happened just feet from an elementary school, that went into lockdown at that time. 
SUGGESTED: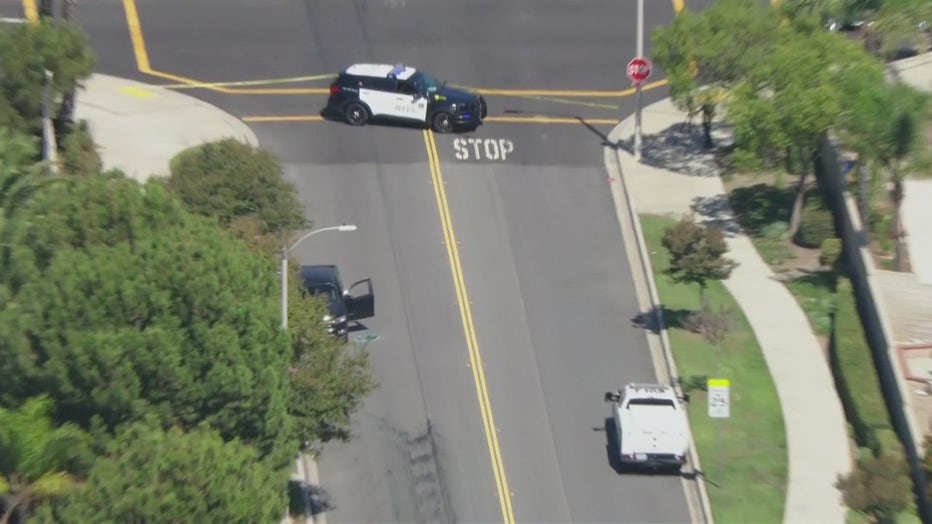 The investigation is ongoing. 
Anyone with information is asked to contact the Fontana Police Department.