Suspected arsonist sets 6 fires within 2 hours in Reseda, officials say
LOS ANGELES - Residents in one San Fernando Valley neighborhood were on edge as police continue to search for a suspected arsonist. 
Officials with the Los Angeles Police Department said the latest string of fires was just before 1 a.m. Tuesday in the Reseda area. LA City firefighters were called to a neighborhood near Reseda Boulevard and Vanowen Street after reports of multiple rubbish fires. 
Authorities said six fires were set within two hours, including one along Yolanda Avenue where someone set fire to the brush in the bed of a truck before taking off. 
The LAPD set up a perimeter around the neighborhood in search of the suspect as crews worked to knock down the fires.
SUGGESTED: Wrong man arrested in Long Beach car fires investigation, authorities say
Arson investigators believe the same suspect may have been setting fires in the area for the past several nights. 
Overall, arson investigators told FOX 11 that they're looking into at least 14 suspicious fires in the last 72 hours in Reseda, but were also extending their investigation to potentially related fires outside the Reseda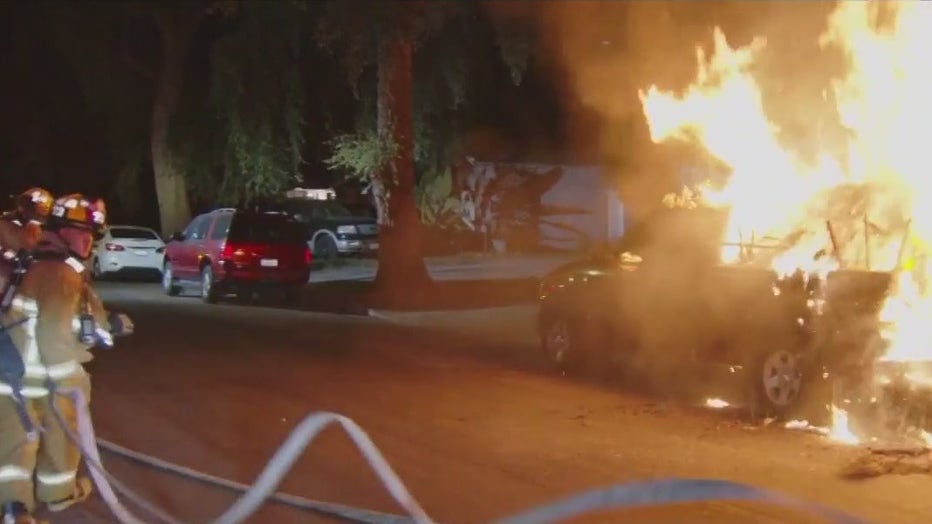 One household was also forced to move due to smoke issues when their backyard was set on fire Sunday afternoon. One of the residents in that home is a woman who is seven and a half months pregnant.
The family told FOX 11 that they've had issues with fires being lit by people staying in the Santa Ana riverbed that borders the back of the property and that one of those people came to their home after the fire, telling them a woman was responsible. 
Other residents have shared security videos of a woman seen near the fires, with investigators saying they're not yet ready to call her a suspect. 
Anyone with information about the fires was asked to call the LAFD's Arson Tip line at 213-893-9850, or email LAFDArson@lacity.org.