Ranch 2 Fire burning in Azusa grows to 4,300 acres
AZUZA, Calif. - The Ranch 2 Fire in Azusa grew to 4,300 acres as of Wednesday evening and is 19% contained, as it threatened radio repeaters on Pine Mountain Peak.
Dangerously hot and dry weather over the fire was forecast for the next few days, with an excessive heat warning extended through Thursday.
"Fuels and rugged steep terrain in the fire area are the main cause for upslope runs," the U.S. Forest Service said. "Active fire behavior continues after the afternoon inversion lift. Fuels are critically dry."
The fire made it to Pine Mountain Peak, but had not damaged radio repeaters located on the peak as of 8 a.m. Tuesday, the Forest Service said.
There were 456 firefighters assigned to the blaze, which erupted in a homeless encampment Thursday.
No structures were damaged, and no injuries were reported.
With a prevailing heat wave, firefighters encountered flareups Monday as the fire grew to 3,050 acres.
On Friday, residents in the Mountain Cove area were allowed to return home after evacuation orders were lifted. At the time, the brush fire consumed 1,400 acres and was 3% contained. 
The Ranch 2 Fire was reported around 2:45 p.m. Thursday near North San Gabriel Canyon Road and North Ranch Road, according to the Azusa Police Department and Los Angeles County Fire Department, which called in a second-alarm response.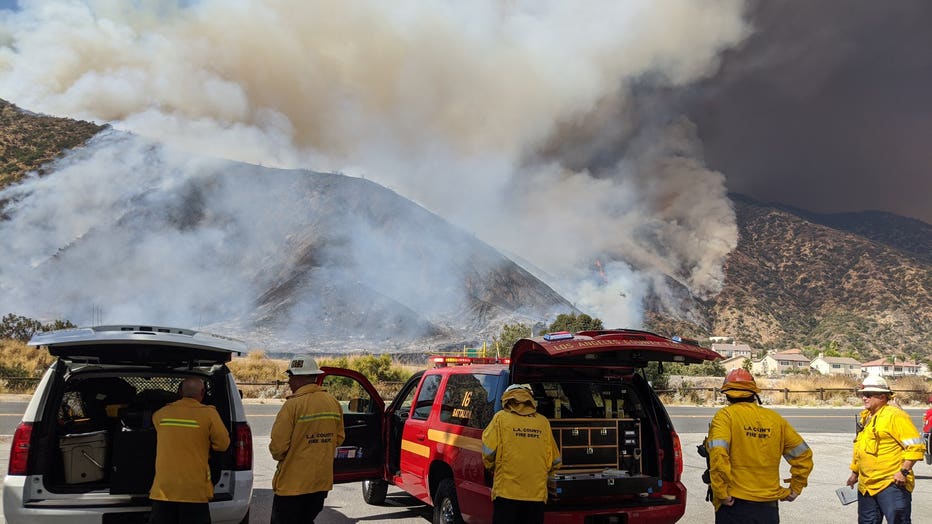 Credit: Azusa Police Department (Twitter)
Get breaking news alerts in the FOX 11 News app. Download for iOS or Android.
Mandatory evacuation orders were issued for residents of Azusa's Mountain Cove community, south of Highwood Court, as well as north and west of Turning Leaf and Boulder Ridge, according to the Azusa Police Department. Mountain Cove residents who live north of Highwood Court were asked to voluntarily evacuate due to the Ranch Fire.
Police announced around 11 p.m. the evacuation order for Mountain Cove residents was lifted, but emergency vehicles would remain in the area for at least 72 hours to monitor the fire.
Road Closures
The following road closures remain in effect:
 • San Gabriel Canyon Road/Highway 39: closed at Northbound Hwy 39 at Sierra Madre Avenue (southbound Highway 39 is closed at East Fork Road);
 • Glendora Mountain Road: closed from Big Dalton to East Fork;
 • Glendora Ridge Road: closed from Glendora Mountain Road to Mt. Baldy Road; and
 • Santa Anita Canyon Road: closed from Arno Drive to Chantry Flats Road.
Horses evacuated from Mountain Cove are being accepted at Fairplex in Pomona.
Trailers can enter the fairgrounds at Gate 12, located at 2201 White Ave., according to Renee Hernandez, Fairplex's director of communications.
"Owners will need to bring food, water and bedding for horses," Hernandez said. "Please be prepared to follow COVID-19 guidelines -- social distancing and masks required. Stables are spaced to assist with social
distancing."
Fairplex has enough stables to board 200 horses, Hernandez said.
The Angeles National Forest changed its Forest Fire Danger Level from very high to extreme and moved into full fire-restriction mode, including prohibiting campfires in developed sites. Cooking stoves, lanterns and similar devices that use propane, white gas or similar fuels are prohibited.
CNS contributed to this report.