Powerball winners: Seven tickets worth over $400,000 each sold in California
LOS ANGELES - As the nation awaits the winner to come forward with the winning ticket for the $1 billion Powerball jackpot, seven other lotto players in California are on the verge of being $400,000 richer.
According to the California Lottery, the winning ticket worth up to $1 billion was sold at Las Palmitas Mini Market on Wall Street in downtown Los Angeles.
In addition to the grand prize winner, there are seven tickets sold in California that are worth up to $448,750 each. Those tickets matched five of the winning numbers, lottery officials said.
Below are the locations of where the winning tickets were sold:
Speedway: 14360 Francisquito Avenue, La Puente, CA 91746
7-Eleven: 2620 South Lake Boulevard, South Lake Tahoe, CA 96150
7-Eleven: 3555 West Temple Street, Los Angeles, CA 90004
7-Eleven: 1590 Franklin Street, Santa Clara, CA 95050
Safeway: 4950 Mission Street, San Francisco, CA 94112
Mobil: 17011 Lassen Street, Northridge, CA 91325
Steve's Liquors: 583 West Tennyson Road, Hayward, CA 94544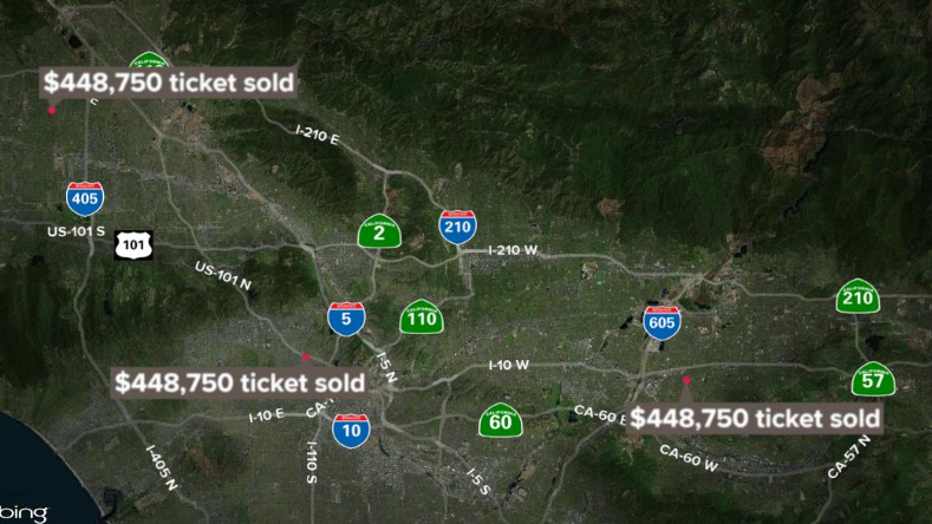 HOW MUCH DO YOU WIN AFTER TAXES?
There are 1 billion reasons to dream, especially what you would do with the jackpot money. However, one thing all lottery winners have to take into account is the fact that their prizes will be taxed.
So how much do you really get after taxes?
It depends on a couple of factors: do you have to pay state taxes where you live? Will you take the lump sum payment or the annuity payout?
According to Powerball's website, those electing to take the annuity option are guaranteed to get 30 gradual payments over a 29-year period. 
RELATED: Powerball payout calculator: How much would you get after taxes if you won?