Man wanted for assault in custody after graphic standoff inside LADWP SUV in Atwater Village
LOS ANGELES - A standoff in Atwater Village ends with a man in handcuffs – but not before leading police on a chase inside and then drawing SWAT officers.
SkyFOX picked up the scene at the end of a police chase in the 4600 block of Colorado Boulevard. At one point during the standoff, the suspect rammed the car he was in – a Los Angeles Department of Water and Power vehicle – into several cars before hitting a curb and then stopping the SUV.
The driver of the car was seen hanging out the back window of the SUV, shirtless and yelling at officers. According to the LAPD, the man is armed with a screwdriver. It wasn't immediately clear if the vehicle was stolen. 
There were reddish-brown stains all over the back of the DWP SUV, sparking concerns whether the suspect was inflicting self harm. Officials did not say if the stains were his blood or if it were something else.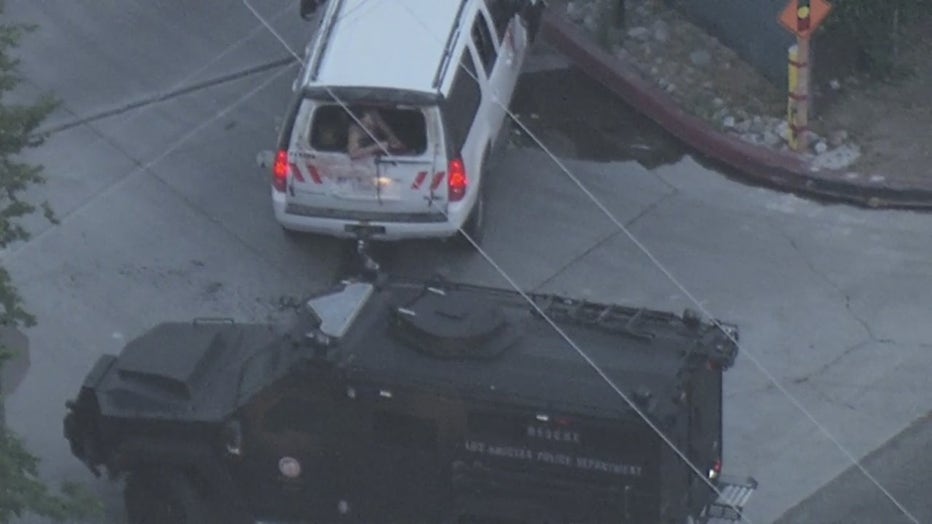 After several minutes of the man shouting out the back of the truck at officers, the department brought in several SWAT vehicles.
The suspect was taken into custody after the hours-long standoff.