Police searching for second street racer in deadly Hawthorne crash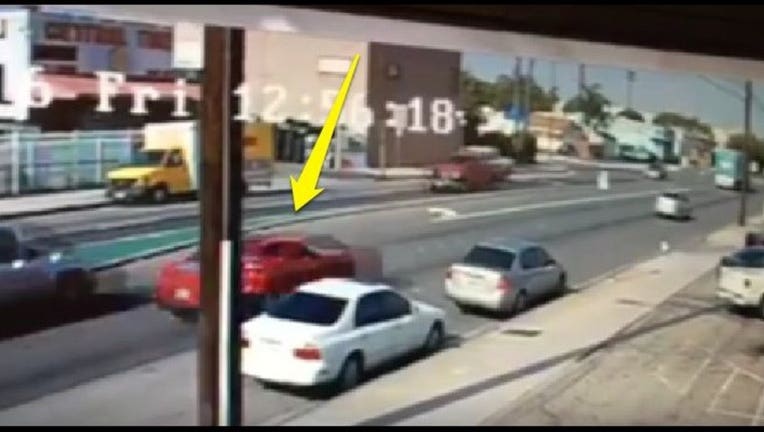 article
HAWTHORNE (CNS) - Police were searching Saturday for a second street racer driving a Chevrolet Camaro, after a 23-year-old suspected racer was booked on murder allegations in connection with a crash that killed a 36-year-old driver in Hawthorne.

Alfredo Perez Davila was racing against a red, Chevrolet Camaro just before 1 p.m. Friday, going north on Crenshaw Boulevard when he lost control of the Chevrolet Cobalt and swerved across all the traffic lanes before slamming into the center median, according to Hawthorne police Lt. To Goetz.

The force of the crash sent the Cobalt flying airborne where it eventually landed on a Honda heading south on Crenshaw, Goetz said.

Surveillance video from a nearby store showed the Cobalt rolling completely over the Honda before coming to rest on the street, Goetz said.

The driver of the Honda was pronounced dead at the scene.

He was later identified as San Pedro resident Benjamin Golbin, 36, said Coroner's Lt. Dave Smith. Golbin died while being cut from the wreckage of his car, police said.

"The whole front of his car is missing,'' Gardena police Sgt. Eric Hyde told the Daily Breeze.

Davila was treated for his injuries and then taken to the Hawthorne police station where he was interviewed and then booked on suspicion of murder, according to Goetz.

The driver of the Camaro fled, heading north on Crenshaw.

The collision occurred in the 13100 block of Crenshaw Boulevard, on Hawthorne's side of the border with Gardena, Goetz said.
Unfortunately, this is another sad example of poor decision making. The driver of this silver, Chevrolet Cobalt was...
The Hawthorne Police Department has posted surveillance video of the crash on its Facebook page in hopes of tracking down the Camaro driver, Goetz said.

Anyone with information on the whereabouts of the driver in the red Camaro was asked to call Hawthorne police at (310) 349-2708. All tips can be made anonymously.
Copyright 2016 FOX 11 Los Angeles: Download our mobile app for breaking news alerts or to watch FOX 11 News | Follow us on Facebook, Twitter and YouTube.