Pasadena doctor intentionally drove Tesla over cliff with family in car, investigators say
SAN MATEO COUNTY, Calif. - California authorities said a 42-year-old Pasadena doctor was charged with attempted murder and child abuse after investigators found he intentionally drove his Tesla over a cliff near Devil's Slide with his wife and two children inside.
Dharmesh Arvind Patel, a doctor who previously worked at Providence at Holy Cross Medical Center, deliberately veered over the San Mateo County cliff along Highway 1 on Monday morning, according to California Highway Patrol investigators.
"Providence Holy Cross Medical Center is deeply saddened to learn of a traffic incident involving one of our physicians and his family. We are extremely grateful there were no serious injuries. We will not respond further, as this incident is under investigation," hospital officials said in a statement.
UPDATE: '2 adults, 2 children went 300 feet over a cliff': Intentional crash shocks emergency crews
Investigators have not yet determined what driving mode Patel's Tesla was in, but that does not appear to have been a contributing factor in the crash.
Patel, his wife, and their 7-year-old daughter and 4-year-old son were traveling along the southbound side of Highway 1 shortly before 11 a.m. when the vehicle veered off the roadway, south of the Tom Lantos Tunnels, plunging 300 feet down a cliff, officials said.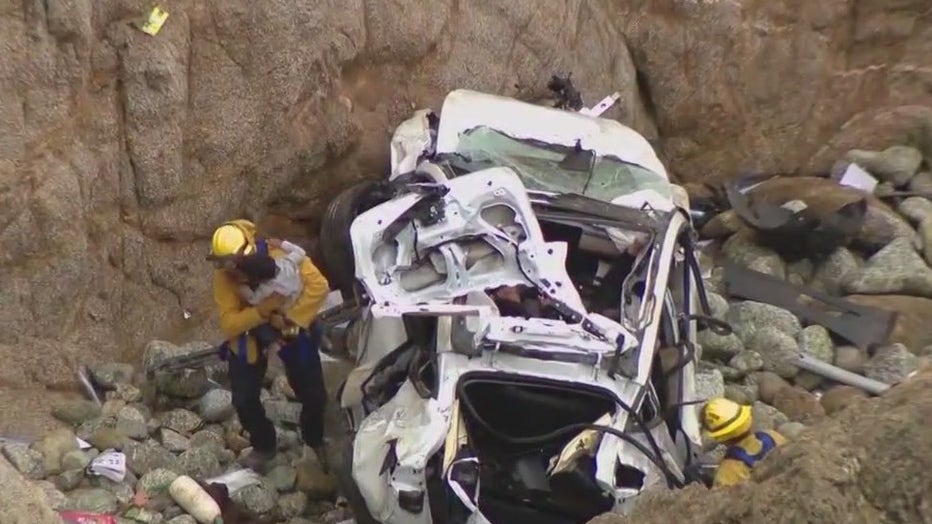 The Tesla came to a rest on the rocks near the edge of the Pacific Ocean, which triggered a daring rescue involving at least 30 first responders who worked to free the trapped family.
Thankfully, they all survived the crash.
The two children suffered minor to moderate injuries. Patel and his wife's injuries ranged from moderate to critical injuries.
Patel is still being treated for his injuries at a local hospital and once released, he will be taken to the San Mateo County Jail.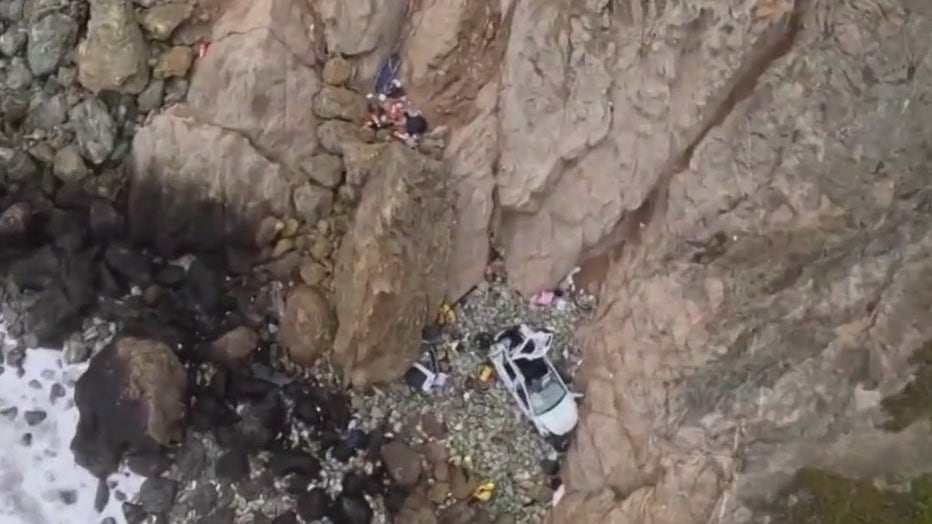 Coastside Fire Protection District Battalion Chief Brian Pottenger said, "We did have one witness state the vehicle did veer off the road to the right-hand side, went up into the dirt area, and then proceeded to go off the cliff."
 The CHP has yet to submit its case to the San Mateo County District Attorney's Office.
"They do not have to get the case to us for review and potential filing until Patel is released from the hospital and booked into the county jail," the DA's office said.