Orange County reports three more deaths from coronavirus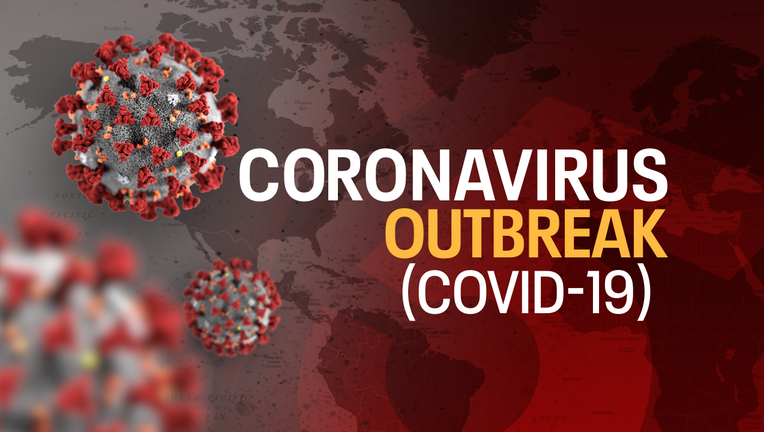 article
SANTA ANA, Calif. - Two more COVID-19-related deaths were reported on Wednesday, bringing Orange County's death toll to 44, as the overall case count rose to 2,252.  
Get breaking news alerts in the FOX 11 News app. Download for iOS or Android.
The Orange County Health Care Agency announced 108 new confirmed coronavirus cases, and also reported that the number of hospitalized patients dipped from 178 on Tuesday to 175, with the number of patients in intensive-care declining from 74 to 70.
RELATED: The OC Board of Supervisors vote unanimously on safety guidelines required to reopen businesses
Men make up 53% of the county's cases and 61% of its fatalities.  
Of the county's total cases, 2%, or 43, involve people under 18 years old; 8%, or 191, are between 18-24; 17%, or 375, are between 25-34; 15%, or337, are between 35-44; 19%, or 429, are between 45-54; 17%, or 390, are between 55-64; 11%, or 246, are between 65-74; 7%, or 150, are between 75-84;and 4%, or 91, are 85 and older.  
Of the patients who died, 5% were 25 to 34 years old, 7% were 35 to44, 11% were 45-54, 16% were 55-64, 11% were 65-74, 34% were 75-84, and 16%were 85 or older.   Whites account for 32% of the fatalities, followed by Latinos (30%), Asians (27%).
According to the HCA, 7% were black, 2% were Native Hawaiian or Pacific Islander, and 2% fall into the category of "other."  
RELATED: Stay up to date on all coronavirus-related information
The number of people tested for COVID-19 in the county increased by2,203 to 29,940.  
Santa Ana has the most cases with 330, followed by Anaheim at 316, Huntington Beach at 214, and Irvine at 126. They are the four biggest cities in the county.  
Despite restrictions designed to slow the spread of the virus, crowds flocked to Orange County beaches over the weekend as temperatures rose to summer-like levels, which drew sharp criticism from Gov. Gavin Newsom on Monday.  
At his daily briefing on Wednesday, the governor was asked about the Newport Beach City Council voting Tuesday night to keep the city's beaches open this weekend.
He responded that he "will be making some subsequent announcements" very soon related to the state's coastline, where beaches are open in some counties and closed in others.  
The governor said he has consulted with law enforcement and coastal commission officials since Monday "to really figure out what our next steps are. I can assure you that clarity will come in a very short period of time."  
Unlike in neighboring Los Angeles County, the public was not strictly prohibited from spending time on the sand in Orange County last weekend, though county beach parking lots remain closed.  
City councils in Newport Beach, Laguna Beach, and San Clemente held special meetings Tuesday to discuss their schedules for closing and/or re-opening beaches and parks. County supervisors did not address the issue at their meeting on Tuesday but did approve a list of business guidelines.  
When Newsom was asked by a reporter to comment on erroneous reports that the county "reopened" its businesses, she handed the phone to Orange County Supervisor Don Wagner, a former assemblyman, who scrambled to correct the reporter that the county's guidelines do not supersede the state's orders.  
"I was unaware the phone would be stuck in my face to say something to the governor," Wagner told City News Service afterward. "My point to the governor is that we recognize the importance of following state, local, and individual city orders and encourage people to follow those orders."  
The Newport Beach City Council, in a 3-2 vote on Tuesday, rejected an emergency motion to shut down its beaches for the next three weekends, despite Newsom's admonishments.  
Instead, the city will close the parking lots to the beaches and have police beef up patrols to enforce social distancing. Also, popular spots such as the Oceanfront Boardwalk, the Newport and Balboa piers, and the Wedge will remain closed.  
Newport Beach City Councilman Kevin Muldoon led the effort to fend off the proposed ordinance, arguing that the state should be looking to relaxing quarantine conditions before more damage is done to the economy.  
Wagner does not support any shutdown of beaches. Newsom "is rightly saying it should be driven by data and the data suggests that sunlight and outdoor activities help people fight off the coronavirus," he said.  
Wagner also disputed reports of mass gatherings of beachgoers ignoring social distancing.  
Orange County's guidelines encourage sick people or anyone 65 or older or who have underlying medical conditions or chronic illnesses to continue to follow stay-at-home orders.  
Physical distancing of six feet between customers, employees and the general public are encouraged, and if that is impractical then face coverings should be worn.
Telecommuting is encouraged as much as possible.   Employees should wash hands every 30 minutes or use hand sanitizer or wear disposable gloves and have their temperature checked before each shift.
Anyone with a temperature above 100.4 should be sent home.  
The guidelines suggest customers wear face coverings, as well.  
Wagner said relaxing stay-at-home restrictions is not up to the county.  
"It is beyond our power as a matter of law and beyond our power as a matter of the use of the English language that we can reopen Orange County," he aid. "We're trying to provide guidelines that demonstrate best practices and allow those who are looking to get back to business in Orange County that will do it in a way that satisfies (county health officer) Dr. (Nichole) Quick and the county and our responsibilities to state law."  
Wagner recognized the appeals residents and business leaders have made, and he noted that the county's death rate is the lowest in the Southland.  
"That means we have flattened the curve," Wagner said. "We are also... in better shape than most urban areas around the state."  
But, Wagner noted, the threat of a "second surge is very real, according to the best science and best information currently available." 
The county must also balance the threat of an economic depression, as well, Wagner said.  
"The resulting damage will last longer than the disease will," Wagner said.  
The Sheriff's Department on Wednesday reported the number of inmates testing positive for COVID-19 has jumped to 117, up from 96 on Tuesday. The department is awaiting results of 21 more tests. So far, 22 inmates have fully recovered.  
The number of inmates testing positive for COVID-19 has jumped as officials expand testing, Sheriff Don Barnes said.  
Sheriff's officials were previously testing symptomatic inmates, but with the availability of more tests, expanded it to newly booked inmates and those who were quarantined because they came in contact with sick inmates but didn't have any symptoms.  
All three deputies who have tested positive for coronavirus have fully recovered, Barnes said.