Olympic & Bundy: Insight into the life of Ringo Starr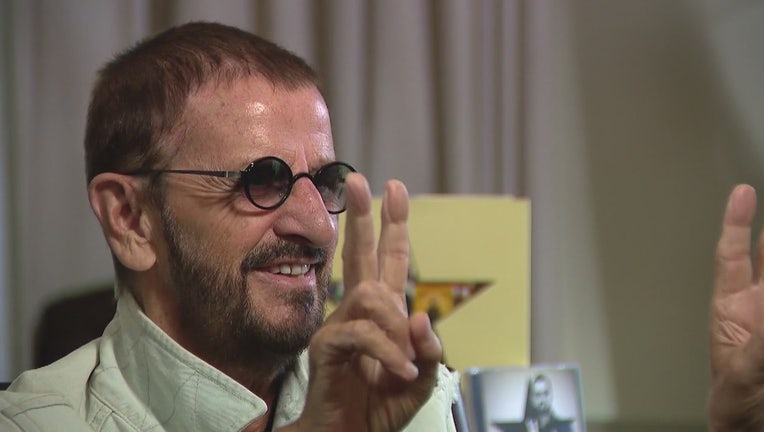 article
LOS ANGELES - "The album is GREAT!" he exclaims and then Ringo Starr erupts into laughter. The famed drummer for the Beatles has released new studio music and a new book with a fun look into his life.
Some of the Beatles band days are documented in his new book, "Another Day In The Life" as well as modern moments in music.
LISTEN: Olympic & Bundy Episode 99 - Insight into the life of Beatles drummer Ringo Starr
The new album, his 20th, is called "What's My Name." If you've ever been to a Ringo Starr concert then you know it's part of his act on stage. After introducing the band he shouts out to the audience, "and what's my name?" They of course, shout back, "Ringo Starr!"
On the album, Starr is backed by his All Starr friends.
Even  Beatle bandmate Paul McCartney joins him in song. One song, Grow Old With Me, was written by the late John Lennon. Starr recorded it after receiving a Lennon demo from a producer. He was clearly moved by hearing Lennon's voice on the old demo.
Starr's third book shows big moments in his life as well as moments in time he captured from his own camera or cell phone. Photos range from art, to nature, to travel, to music. Some shots are simply whimsical, like the food arranged on his plate. Starr is as much into music these days as he is photography, even if it is often on his cell phone. Starr's motto is peace and love and that theme plays out throughout the book.
It's been more than 50 years since the Beatlemania hit America.
Old KTTV footage shows Lennon, McCartney, Starr, and the late George Harrison at a news conference in Hollywood. Starr lives in Los Angeles and recorded his album at his home studio.
Fans got to hear a whole lot more and in person. On Tuesday night it was a ticketed celebration of the book and long form conversation. It was at the Saban Theater in Beverly Hills.
Joining Ringo Starr Tuesday, Oct. 29th were the two who wrote the forward to the book, iconic filmmaker David Lynch and renowned photographer Henry Diltz.