Ohio researchers develop new breed of honeybees to fight parasites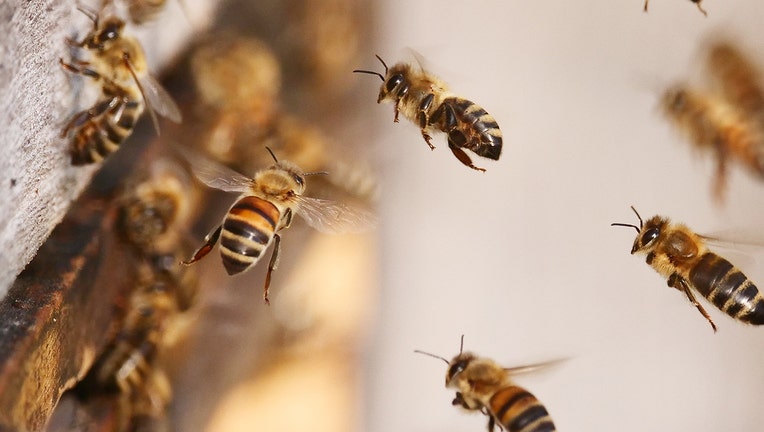 article
WILBURFORCE, Ohio - As honeybees face numerous threats that have led to significant declines in population, a team of researchers at Central State University in Ohio is making strides in genetic research to combat one of the main causes of colony losses – parasitic mites.
Their research has paved the way for the development of a new breed of bee which has the potential to reduce mite infestations in hives and enhance long-term bee sustainability.
The university's breeding program aims to develop worker bees, known as OB1 or "Ohio Mite Biters," that possess a hygienic trait and develop smaller mandibles.
Bees with smaller mandibles are better groomers and can bite off parts of the mites, preventing them from attaching to the brood or adult bees. Currently, only about 10% of bees exhibit this trait. By using feral bees instead of domesticated bees, the university's research, in collaboration with Purdue University, aims to breed the biting trait into a larger percentage of a hive's bees.
ALARMING BEE MORTALITY RATES PERSIST IN THE US, POSING CHALLENGES FOR BEEKEEPERS
"This is a long process, so that's why you don't see many other universities taking the time to do this," said Dr. Hongmei Li-Byarlay, an associate professor of entomology of Central State. "These [wild] bees are potentially being selected by natural selection for many, many years so we were interested in studying those genes."
To introduce new strains of bees into the hive, the researchers have collected drones from hives that have a high percentage of mite-biter bees. These drones will be used for artificial insemination of the queen – a process that requires 15 to 20 drones in nature, but increases significantly to 50 to 60 for artificial insemination.
HEALTH OF HONEYBEES BEING PROMOTED BY GOVERNMENT PROGRAM THAT AIMS TO FIND BEST ENVIRONMENT FOR THE INSECTS
The research at Central State University comes at a crucial time as honeybees continue to face threats to their existence.
An annual survey conducted by the University of Maryland and Auburn University's Bee Informed Project revealed that beekeepers lost nearly half (48%) of their managed colonies in the past year. That's up significantly from the 12-year average of 39.6% of colonies lost annually.
RELATED: Watch bees take over Times Square
Honeybees play a vital role in pollinating more than 100 crops essential for the nation's food supply.
Still, the overall bee colony population remains relatively stable due to the efforts of beekeepers in creating new colonies and restocking hives.
While the loss numbers are troubling, experts believe that the situation is not as dire as it was in the past. Beekeepers have learned how to rebound from significant losses, although the challenges remain.
"We have our own breeding stocks now so we hope to work with more people to integrate a different variety of genetics in this line to make it better," said Li-Byarlay. "Beekeepers want colonies to be strong, as managed pollinators they're definitely very important for our crop production, so we have to protect them."
CLICK HERE TO READ MORE ON FOX BUSINESS
The development of OB1 bees through genetic research provides hope for the future of honeybee populations by tackling the issue of mite infestations and promoting hive health.