Officers struck by projectiles, protesters shot with nonlethal rounds in downtown LA
LOS ANGELES - At least three people were injured in confrontations with police during multiple demonstrations in downtown Los Angeles Saturday evening.
All three suffered minor injuries and were taken to hospitals for treatment, according to the Los Angeles Fire Department's Margaret Stewart.
Four people were arrested, three on suspicion of battery on a police officer and one -- who allegedly was in possession of a machete -- for causing a disturbance
Protesters, in support of the two-month police protest movement in Portland, Ore., smashed windows and spray painted slogans at the Metropolitan
Detention Center and threw objects at officers during a federal courthouse
confrontation.
Two separate demonstrations began in front of Los Angeles City Hall Saturday, one organized by the group Refuse Fascism as part of an ongoing series of demonstrations against the administration of President Donald Trump, the other by the Youth Liberation Front.
The Youth Liberation protest was part of a daylong action in more than 30 cities to support protesters in Portland, Ore. who have demonstrated daily since May 29 against police brutality and systemic racism, and have been in a standoff with federal troops since early July.
All Los Angeles Police officers had remained on duty past the end of their shifts as part of a citywide tactical alert, and many were sent to the downtown protest.
After leaving Los Angeles City Hall around 5:30 p.m., the crowd marched to the Los Angeles Police Department headquarters building at First and Main streets.
There they shouted at the two front desk officers, while someone spray-painted red Xs on exterior display cases containing LAPD badges.
Protesters continued northeast, holding homemade signs fashioned out of items like boogie boards and Amazon packaging, with phrases such as "SAY THEIR NAMES'', "BLACK LIVES ARE LOVED'', and "COPS ARE BAD MMKAY''.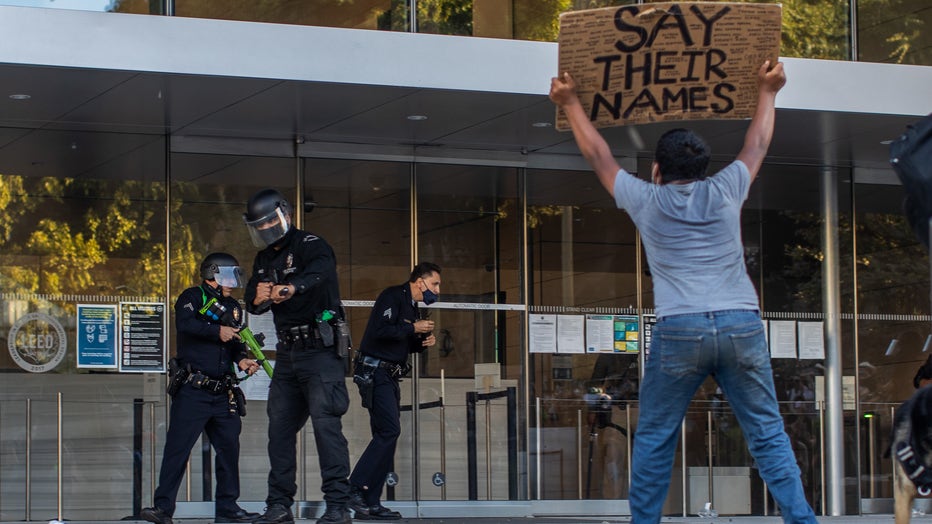 A man holds a sign while Police officers try to protect the US Courthouse during a protest demanding justice for George Floyd, Breonna Taylor and also in solidarity with Portland's protests, in Downtown Los Angeles, California, on July 25, 2020. (Pho
There were also Trump/Pence OUT NOW! rectangles held aloft, distributed by Refuse Fascism.
Several protesters carried black flags, some with nothing on them, and at least one with the Anarchist letter "A.'' Up until the group reached the Metropolitan Detention Center, the protest had remained largely peaceful.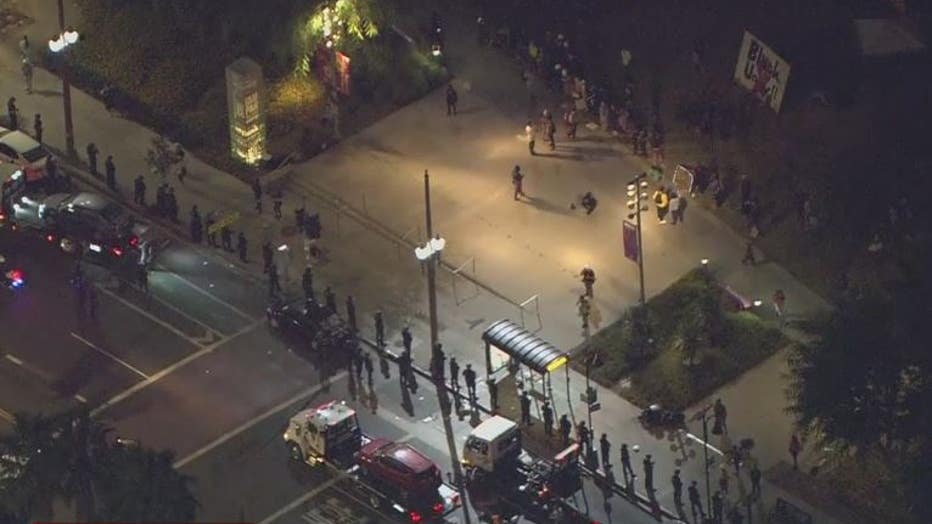 But it was at the federal prison that some demonstrators started mashing windows -- one kicked in, another smashed with a skateboard -- writing FTP, an anti-police slogan, across adjacent windows and blacking out part of the facility's emblem with spray-paint.
Down on the street, one protester held a sign that read "FEDS GO HOME'', in purple lettering, pointing to the significance of targeting a federal building, in the wake of the Trump Administration's expansion of a crackdown on protests from Portland to Chicago.
Trump has threatened to dispatch federal law enforcement to additional cities, but there was no evidence of such a response during the protests in Los Angeles Saturday.
One tag on the building read "Building the new world today'' with an anarchist "A'' underneath.
Security personnel at the entryway surveyed the damage but didn't seek to push back against protesters, nor were any LAPD officers present. Demonstrators headed toward the Hollywood (101) Freeway a few minutes after arriving.
It was at the southbound offramp at Garey Street that LAPD responded, with the assistance of California Highway Patrol officers, as the first police helicopter appeared overhead.
Lt. John Cook, of the LAPD's Northeast Division estimated the crowd size at 150 people.
The crowd passed under the freeway and then walked along northbound 101, blocking all lanes, before exiting on two separate offramps and heading on multiple city streets toward the United States District Court at 350 W. First St.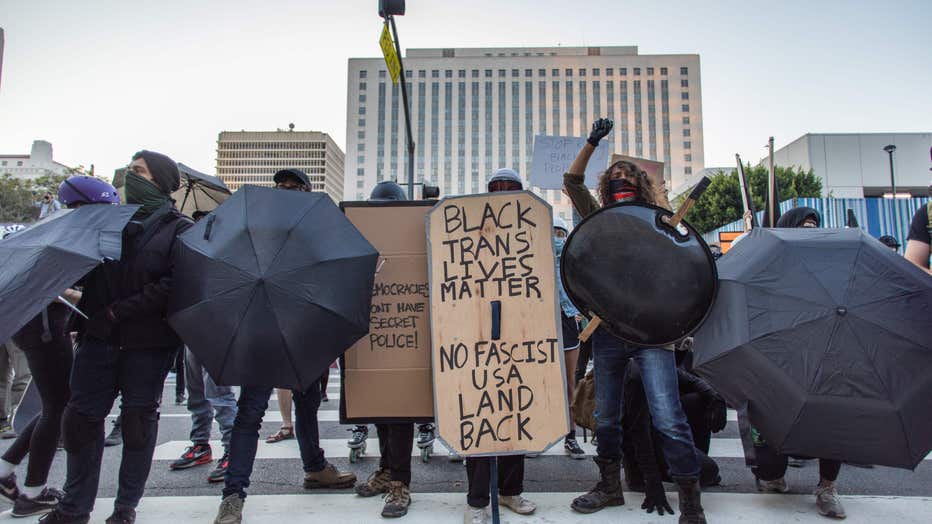 People protest demanding justice for George Floyd, Breonna Taylor and also in solidarity with Portland's protests, in Downtown Los Angeles, California, on July 25, 2020. (Photo by Apu GOMES / AFP) (Photo by APU GOMES/AFP via Getty Images)
After protesters began hurling rocks and water bottles at the front doors, a handful of LAPD officers arrived from the northern corner of the building, bounding down the steps directly into projectiles that included multiple items filled with water and at least one orange.
More officers arrived and several officers aimed nonlethal firearms directly at protesters, in some cases at close range, rather than at the ground in front of them, as per department regulations.
Video of the confrontation appeared to show one officer firing a nonlethal round directly into the crowd, which had already been pushed back to the sidewalk.
About a minute and a half later as police struggled to detain at least three people, another officer fired a nonlethal round directly northwest into the crowd in the middle of First Street.
One female protester, who was on the ground, grabbed an officer's nonlethal firearm as the male officer sought to detain her.
Another officer shoved a protester multiple times and struck the person, who was holding up a bike for protection, unprovoked by anything other than words.
Sgt. Luis Contreras said the firing of nonlethal rounds was the normal response to a situation like this.
"We got hit by rocks and bottles and screwdrivers, and they busted that glass -- that's why,'' he said. "We tried not to. We weren't going to, but it just got too dangerous.''
An LAPD officer stationed outside the force's downtown headquarters said police believe there were members of Antifa, anti fascist activist, within the crowd.
Police had mostly dispersed by 11 p.m