OC judge charged with wife's murder texted work: 'I just shot my wife. I won't be in tomorrow'
ANAHEIM, Calif. - The Orange County District Attorney's Office announced Friday a longtime judge of the Southern California county was charged with murder in the shooting death of his 65-year-old wife at their Anaheim Hills home.
PREVIOUS COVERAGE: OC judge arrested on suspicion of murdering wife at Anaheim Hills home
The DA's office said Orange County Superior Court Judge Jeffrey Ferguson, 72, was charged with one felony count of murder, one felony enhancement of personal use of a firearm, and one felony enhancement of discharge of a firearm causing great bodily injury or death. He faces a maximum sentence of 40 years to life if convicted on all charges. 
On the evening of Thursday, Aug. 3, officers with the Anaheim Police Department were called to a home in the 8500 block of E. Canyon Vista Drive following reports of a shooting. 
Officers located 65-year-old Sheryl Ferguson suffering from at least one gunshot wound, and she was pronounced dead at the scene. 
The judge, who serves in the North Justice Center in Fullerton, was arrested and booked in connection to the homicide investigation Aug. 3. However, he was released the next day after posting bond. Investigators said they are concerned that Ferguson's .22 rifle has yet to be accounted for. They added police recovered 47 other weapons including an array of rifles, shotguns, handguns and more than 26,000 rounds of ammunition while searching his home during the execution of a search warrant.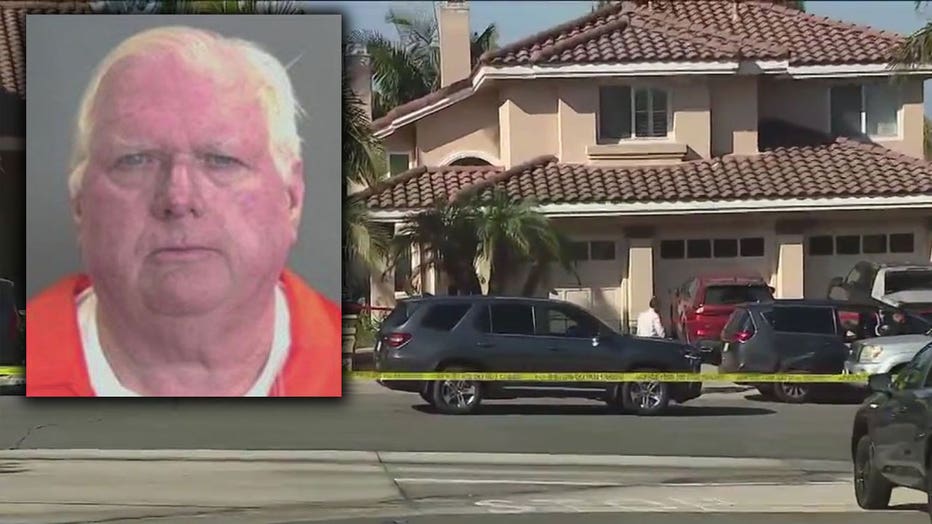 Authorities determined Ferguson poses a concern for public safety and requested additional bail conditions including the surrender of his passport, the revocation of his Carry Concealed Weapon permit, and remaining in the Orange, Riverside and Los Angeles counties. 
The DA's office said as soon as they were informed Ferguson was arrested for suspicion of murder, they notified the California Attorney's General's Office to request a conflict check. On Tuesday, the state office determined there is no conflict and can prosecute the case. 
In the bail motion, Deputy District Attorney Christopher Alex said Ferguson shot his wife "through the chest in the living room of their home in Anaheim."
The prosecutor alleged the judge used a "loaded .40 pistol that he pulled from his ankle holster. He shot her at close range. He did so while intoxicated. His adult son witnessed the homicide."
The dispute began earlier in the evening while the couple argued during a dinner at a restaurant near their home, Alex said.
Ferguson "pointed his finger at his wife in a manner mimicking a firearm," Alex said.
The conflict continued at home "periodically" for about an hour, Alex said.
Referring to the hand gesture at dinner, Sheryl Ferguson allegedly said moments before her husband opened fire "words to the effect of: `Why don't you point a real gun at me?"' Alex alleged.
Ferguson "retrieved his pistol from his ankle holster and shot (his wife) center mass," Alex alleged.
Ferguson's son called 911 and the judge did so as well. When a dispatcher asked the judge if he shot his wife, he said he did not want to discuss that at the time and when asked again, he said she needed paramedics, Alex said.
Minutes later, Alex alleged, Ferguson sent a text message to his court clerk and bailiff, saying, "I just lost it. I just shot my wife. I won't be in tomorrow. I will be in custody. I'm so sorry."
The clerk and bailiff assumed he was joking, Alex said.
When officers arrived, Ferguson "slurred words and smelled of alcohol," and their body-worn cameras caught him saying, "... well, I guess I'm done for a while ... oh my God ... my son ... my son... I'm sorry ... I (expletive) up ... Oh man, I can't believe I did this," Alex alleged.
Seven hours after the shooting investigators got a blood sample from Ferguson, which showed he had a blood-alcohol level of .06.
His son told police that his father is more "heated" when drinking and arguing with his wife, Alex said.
His son "reported that, a few years prior, (Sheryl Ferguson) reported to him that defendant had attempted suicide with a gun," Alex said. The son also said another time Ferguson discharged a gun while alone in a bathroom at the house.
The son did not witness the shooting and characterized it as an accidental discharge to officers, Alex said.
Prosecutors have filed a bail motion to advance a hearing from Sept. 1 to Aug. 15 to seek conditions for Ferguson's release. The defendant's attorneys say they are reviewing the motion.
Sheryl Ferguson previously worked for the Santa Barbara and Orange County probation departments and later for the American Funds Service Company for almost 20 years prior to becoming a full-time mother. The Fergusons have two sons, Kevin and Phillip, both adults.
Jeffrey Ferguson, a native of Oakland, earned a bachelor's degree in biological sciences and social ecology from UC Irvine in 1973. He earned his law degree in 1982 from Western State College of Law, beginning his legal career the following year in the Orange County District Attorney's Office, where he later became a senior prosecutor assigned to the Major Narcotics Enforcement Team. He was president of the North Orange County Bar Association from 2012-14. The Orange County Narcotics Officers Association named him prosecutor of the year four times.
City News Service contributed to this report.