Nine arrests made after George Floyd protest turns violent: Fontana PD
FONTANA, Calif. - The unrest in Minneapolis is being felt in Southern California as nine people were arrested after a George Floyd protest turned violent in Fontana Thursday night, resulting in broken windows and damage to a city building.
Protests also continued in downtown Los Angeles for a second night and in Minneapolis, rioters set the 3rd police precinct on fire. 
RELATED:
• Rioters set Minneapolis police precinct on fire as protests reignite over George Floyd's death
• Protests against police brutality continue for second night in downtown LA
Floyd, an unarmed black man, died while in police custody on Monday. His death has sparked outrage nationwide.
At the time of Thursday night's protests, the four officers involved were fired from the department, but not been arrested. 
By Friday afternoon, ex-Minneapolis police officer Derek Chauvin was charged with first-degree murder and manslaughter in George Floyd's death.
Those who knew Floyd described by those who knew him as "kind," and a "gentle giant." 
RELATED: 
• George Floyd, victim in police encounter, had started new life in Minnesota
• George Floyd's former football, basketball teammates speak
• 'Crying all day': Couple who employed George Floyd mourns his death
• 'Do you understand now?': LeBron James says George Floyd's death is why Kaepernick kneeled
The Fontana protest started on Sierra Avenue around 6 p.m. at City Hall. Officials said between 40 to 50 people were peacefully expressing their anger over the death of George Floyd.
However, authorities said the mood changed when the crowd grew to an estimated 100 people.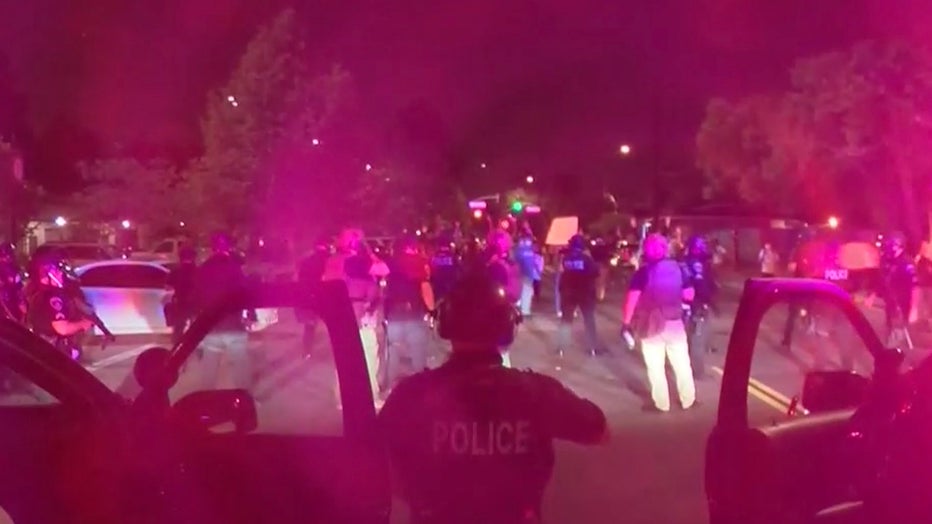 The Fontana Police Department said as the group continued to march on Sierra Ave., protestors started blocking traffic, and threw rocks at passing cars and business windows.
By 9.p.m., police made numerous announcements through vehicle and helicopter PA systems informing protestors that they were engaging in an "unlawful assembly," and were ordered to disperse.
Fontana police said some protestors ignored the order and continued to block traffic on the intersection of Upland and Sierra avenues, and then started throwing rocks at officers. At this point, the department called nearby agencies for mutual aid.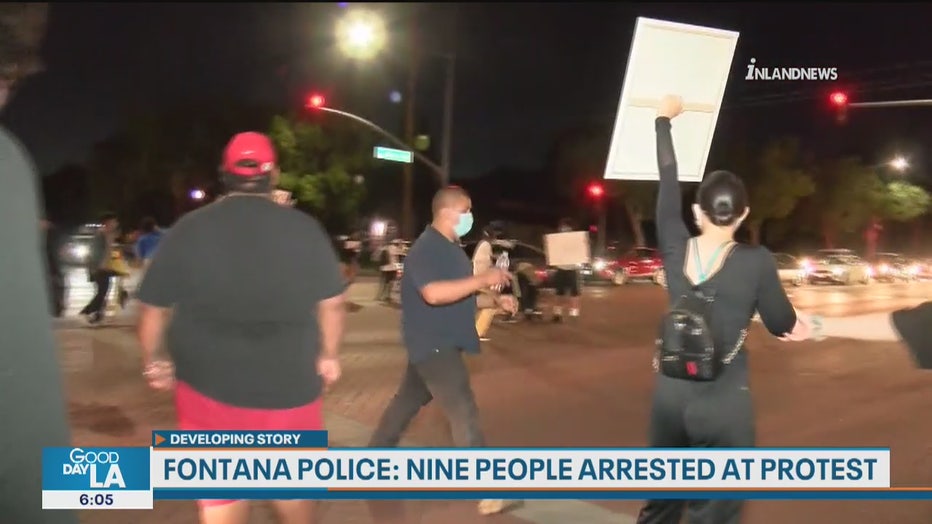 Officials said it took over an hour to disperse the crowd. Nine people were arrested and face various charges.  
Police said property was damaged throughout the area, including broken windows at the Fontana City Hall building.
Get breaking news alerts in the FOX 11 News app. Download for iOS or Android.